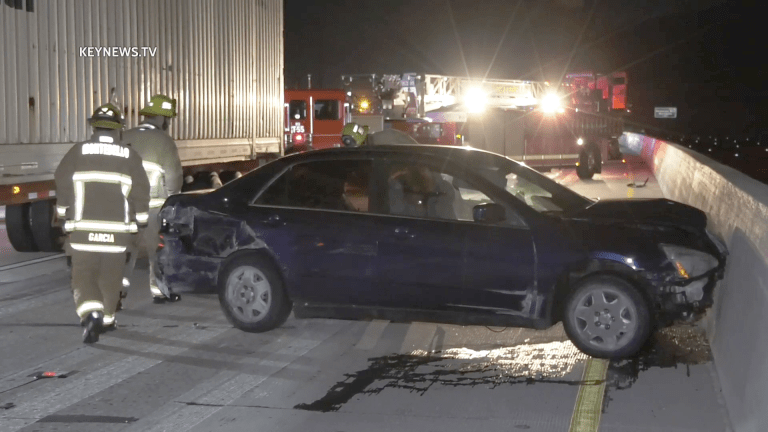 Hit-and-Run Fatality Near Vehicle Crash on 60 Freeway (GRAPHIC)
Deceased female found on freeway was struck and killed upon leaving a solo vehicle collision early Wednesday morning.
WARNING: Video is classified as Graphic Content
Monterey Park: Around 2:15 a.m. Wednesday, Apr. 28, 2021, California Highway Patrol responded to a solo vehicle collision on the Westbound 60 Freeway at Garfield Avenue in the center divider. When CHP arrived on the scene, they located a deceased female in the middle of the freeway. 
According to Sergeant Ryan Robbe with California Highway Patrol Southern Division, East Los Angeles office, officers responded to a blackened out vehicle that was blocking the #1 lane. It was reported that a female was out of the vehicle walking around in the lanes. When CHP arrived on the scene, the female had been struck by another vehicle after the initial accident. That vehicle fled the scene.
Sergeant Robbe said reports from witnesses at the scene state that there were three possible 18-year-olds that were seen on the right shoulder - possibly passengers (of the initial collision) or witnesses - who reportedly called 911 and then fled the scene. 
CHP is presuming from witnesses that the three male teens were part of the accident and that they made it across the freeway to the shoulder, but the victim did not. The three males reportedly fled in a westerly direction on foot. There is still a search out for the three males. The deceased victim is believed to be an 18-year-old Hispanic female.
Anyone with information regarding this incident is encouraged to call CHP Southern Division East Los Angeles office at (323) 980-4600.
Jack Reynolds Photojournalist, Key News Network