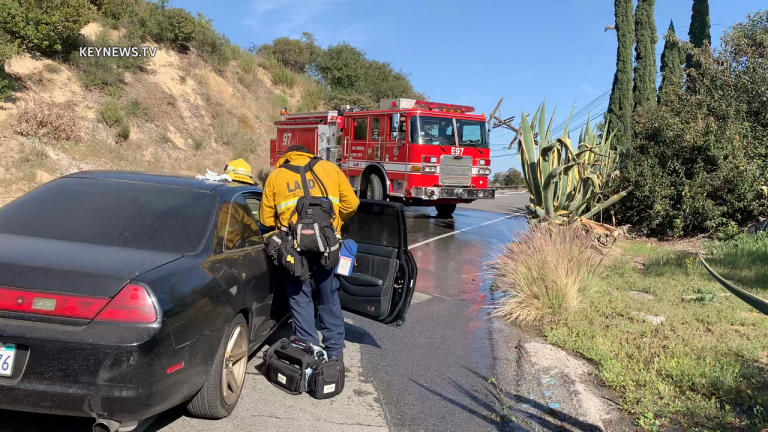 Hollywood Hills Vehicle Collision into Power Pole Sparks Brush Fire, Power Loss
Vehicle collision into power pole causes outage to approximately 2,000 residents.
Hollywood Hills, Los Angeles: Around 4:00 p.m. Thursday, Apr. 8, a single vehicle crashed into a power pole on Mulholland Drive just east of Laurel Pass cutting power for close to 2,000 residents in the area. The Los Angeles Fire Department quickly responded to the scene to extinguish a brush fire that erupted as a result of the collision. The road was closed as Los Angeles Department of Water and Power crews worked continuously through the days and nights to repair the damage. Power was restored around 4:00 a.m. Sunday, and the road was opened shortly thereafter.
According to an update by Rachel Fox, Field Manager from Council District 4, who sent an email to the community on Apr. 9, the driver hit the pole in such a way that it caused damage to both the overhead and underground lines. They (the department) have explored implementing temporary measures and even temporary cable to provide short term power to customers, but at this location it is not feasible nor safe.
There is no information at this time regarding the occupant(s) of the vehicle and what caused the crash. This story will be updated if more information becomes available.
​