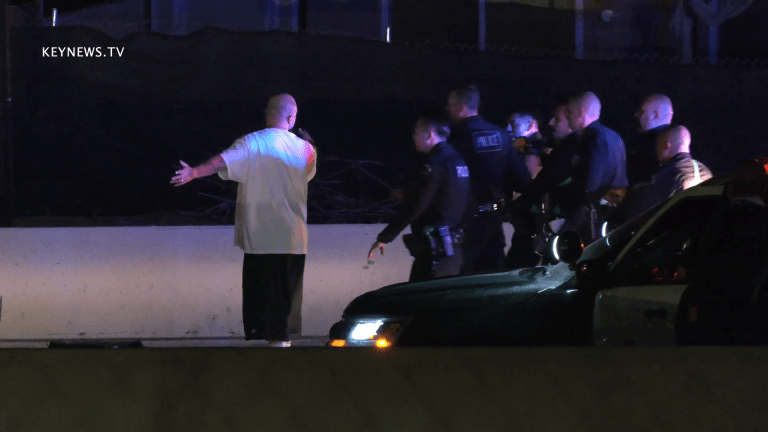 Hours Long Pursuit Ended Peacefully with Suspect in Custody
Six hour long pursuit started in L.A. and ended with suspect in custody in Ontario.
Los Angeles: The Los Angeles Police Department was involved in a six hour long pursuit that began in the area of Vermont and 65th Street Tuesday evening, Feb.2, 2021, and ended in the city of Ontario around 1:30 a.m. Wednesday, involving a suspect suffering from mental illness.
According to LAPD, 77th Gang Enforcement Detail uniformed officers conducted a traffic stop around 6:50 p.m., Tuesday, in the area of Vermont and 65th Street. Officers stopped the suspect's vehicle and began to approach on foot. Officers observed the suspect reaching under the seat and believed the suspect was possibly reaching for a weapon. The officers stopped their approach immediately, and the suspect accelerated away in his sedan.
Officers went in pursuit of the subject fearing he was a danger to the community. During the pursuit, the suspect's family contacted LAPD and provided the officers with the identification of the suspect as 35-year-old Michael Zinkiewitz, a resident of San Pedro, who suffers from mental illness.
The incident commander coordinated a plan to offer help, techniques to de-escalate the situation, and a plea to the family so that the incident could come to an end safely for the suspect and the community. A spike strip was deployed by officers which disabled the vehicle causing it to come to a stop on the 10 Freeway near the Vineyard exit in the city of Ontario. As the suspect exited the car, he refused to comply with the officers' commands.
The Crisis Negotiation Team allowed the suspect's brother to speak with him which resulted in the suspect moving closer to the officers. Officers formed a tactical plan and took the suspect into custody from the standing position without force, according to LAPD. No weapon was recovered. The suspect was booked for two Burglary warrants and Felony Evading.
​
Keith Johnson Photojournalist, Key News Network
​