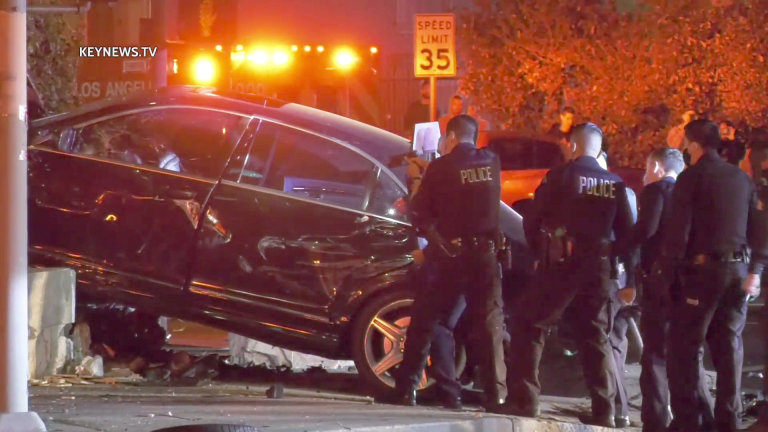 Human Trafficking Suspect Pursuit Ends in Koreatown Deadly Crash
One person was killed in a multi-vehicle collision at the end of a human trafficking suspect pursuit late Thursday night in Koreatown.
Koreatown: Just before midnight Thursday, Sept. 2, Los Angeles Police Department Operations West Bureau Human Trafficking Task Force was in pursuit of human trafficking suspects down city streets. A multi-vehicle collision occurred at West 6th Street and Wilton Place involving the suspect vehicle and killing one person in a white pickup truck.
A stand-off occurred between the suspects and LAPD officers after the collision for approximately 20 minutes before the suspects exited the severely damaged vehicle.
Lieutenant Rex Ingram, Patrol Watch Commander at LAPD Olympic Patrol Division was interviewed at the scene. He said that the Human Trafficking Task Force was conducting a human trafficking operations in the area of Melrose and Western when they observed possibly human trafficking suspects drop off a victim. Officers attempted to initiate a traffic stop of the suspects at which point a vehicle pursuit was initiated, lasting a couple of minutes when the suspect vehicle collided with separate uninvolved vehicles at the intersection of 6th Street and Wilton Place.
According to Lieutenant Ingram, one person was pronounced dead at the scene by Los Angeles Fire Department paramedics, and two others were transported to local hospitals in stable condition. The two suspects were arrested at the scene without incident and transported to a local hospital. Both the collision and human trafficking violations are being investigated. 
Lieutenant Ingram said the suspects were in stable condition and they will be released and booked for the charges.