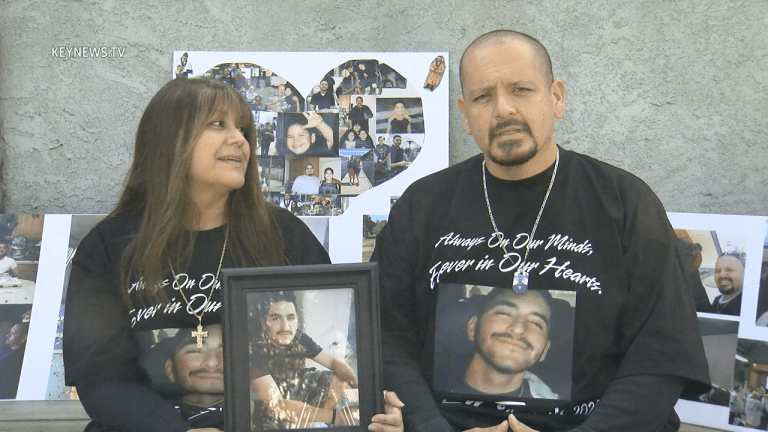 Juvenile Court Reform Impacts Anthony Lopez II Murder Case
The juvenile suspect who took the life of "Little Tony" Lopez will not be tried as adult for murder.
On the night of January 12, 2020, the Lopez family was praying for their son's life. The next morning they were grieving the loss of their 20-year-old son who was the victim of gun violence.
Just recently passing the 13 month anniversary of their son's death, Terry and Anthony Lopez agreed to be interviewed by Key News to discuss that tragic night and the events that followed. Surrounded by photo memories of their beloved son Anthony Lopez II, ''Little Tony" to the family, the Lopez's expressed their love by sharing memories that brought glimmers of pride and joy to their faces. Anthony recounted a religious retreat weekend in October of 2018 that he and Little Tony attended together. He didn't expect Tony would want to go, and Anthony made a point that Tony was not pressured to attend, but when Anthony heard the words, "I'm going" from Tony, it lit up his life then, as it does now. Anthony considered it a "blessing" that Tony even went. Both parents said that Tony's life took off in a positive direction after that weekend. "He was moving forward with his life," Terry said.
Tony was Terry and Anthony's first born of their four children. Terry characterized her son as fun loving, didn't like anger and avoided altercations. He was also very considerate and thoughtful. Terry said he was very quiet and reserved, but once he let you in, "he was a beautiful soul."
Tony grew up in Mission Hills, CA, and graduated from San Fernando High School where he played lacrosse and basketball. After high school, Tony enlisted in the USMC, and after boot camp, was released due to some issues with paper work and returned home. Tony then decided to pursue education and enrolled in school. He had a passion for engineering, and loved to draw. Terry said he always did well in school.
​
​
On the night of Jan.12, 2020, around 9:50 p.m., Tony was driving alone in Pacoima when he was shot in his car at the intersection of Bromont Street and Fielding Avenue. There was reportedly an altercation prior to the shooting with the suspects. After being shot in the back and once in the hand miraculously catching the bullet with his hand, according to his parents, Tony managed to drive to the intersection of Foothill Boulevard and Vaughn Street, a short distance away, where witnesses saw Tony in distress and called for help. When officers arrived on the scene, Tony opened his hand revealing the bullet he had caught, according to his parents. Tony passed away early the next day, Jan.13, from his gunshot wounds.
Nine months later, the Los Angeles Police Department conducted a routine traffic stop where an arrest was made of two suspects - the Valdez brothers - in possession of the gun used in the murder of Tony. The bullet Tony caught in his hand was key evidence in the case.
According to the family in the interview, Jackie Lacey was DA at that time of the arrest of the suspects and Anthony said he asked for an evaluation to be done (of the minor suspect), but they said no, that he "was mentally there." DA Lacey's office originally filed to charge the minor as an adult when booked nine months after the crime on Oct. 2020 and move to adult court. Andrew Valdez, aged 20, is due in court March 8, 2021, Superior Court adult. Anthony Valdez, 16, is due in court Feb.22, to open plea/confess to murder.
Gascon unseated DA Jackie Lacey and took office the first week of December, 2020, announcing that he would immediately stop prosecuting juveniles as adults. Gascon believes in rehabilitation and reform that Anthony said is "cool," but feels that may work for those juveniles that are involved in lesser crimes, but for those that commit murder knowingly should to be tried as adults. Both parents deeply agree with information they have received from authorities - that the suspects knew right from wrong, and that the 16-year-old suspect was "running the show and very street savvy."
Terry and Anthony feel very hurt and are angered by the new change that has greatly affected their son's murder case. Anthony said, "They're not changing anything right now," referring to any hope that the juvenile could be tried as an adult. Anthony said Gascon is basing his reform on the science that the brain is not mature enough to make a good decision until the age of 25.
"It rips our heart out to know that the system is not working for us. You know we're not trying to punish anyone, we're not…trying to play God because ultimately God is the final judge, but he did an adult crime and he should do his time…there are consequences for your actions. He did it with the intent and he knew what he was doing," Terry said.
When asked if they thought this was the type of individual who would commit a crime like this, or a worse crime in the future, after being incarnated for a short time like four years, they both answered,"Yes!"
Anthony said, "This is the worst crime, and to get a slap on the hand is one thing, but then the family gets a slap in the face."
​
Zak Holman Senior Photojournalist, Key News Network