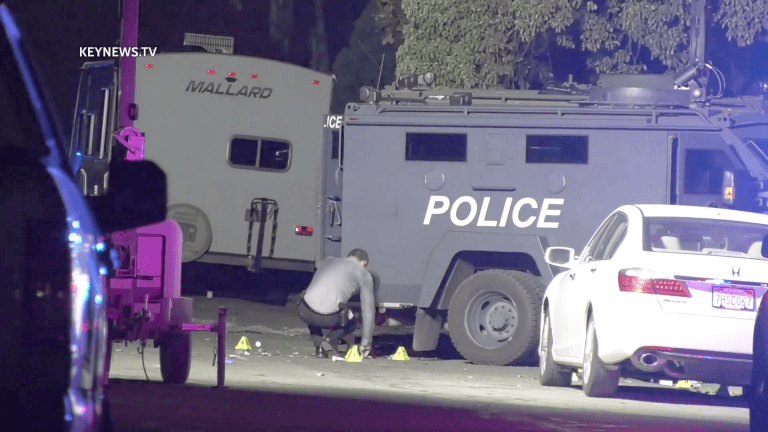 Gunman Fatally Shoots Kern County Sheriff's Deputy, 1 Female, 2 Males in Wasco Standoff
A gunman who killed a Kern County Sheriff's Deputy, a woman, and two males at a Wasco residence Sunday afternoon, was pronounced dead after another officer-involved shooting at the scene.
Wasco: A Kern County Sheriff's Deputy was fatally shot during an hours long standoff with a barricaded gunman inside a home with shooting victims on Sunday, July 25, 2021.
Around 1:05 p.m. two deputies arrived at a residence on the 1700 block of First Street in response to multiple 911 calls with subjects screaming and a call of a male armed with a firearm. About two minutes later, the deputies were fired upon. They took cover and requested additional units including California Highway Patrol, according to the Kern County Sheriff's Office. A perimeter was set up outside the house, and SWAT was requested and responded at 2:53 p.m. 
SWAT approached the house to attempt to extricate the victims inside believing that they might still be alive. As they approached the door, the suspect began shooting at the deputies with a rifle. Deputy Phillip Campas was serving as a SWAT operator when he and Deputy Guerrero were struck by the suspect's round. Two other deputies were wounded by shrapnel. Both deputies were transported to Kern Medical Center where Deputy Campas passed away and Deputy Dizander Guerrero, a 10 year veteran of the Kern County Sheriff's Office, was treated for gunshot wounds to the upper body and released from the Medical Center Sunday night, according to the Kern County Sheriff's Office.
According to Sheriff Donny Youngblood at a press conference Monday morning, the suspect exited the house at 6:28 p.m., and began climbing on the roof of a residence. The suspect was armed with an AK-47 and handgun. An additional officer involved shooting occurred and the suspect was struck. The suspect was removed from the roof and provided medical aid, but was pronounced dead at the scene.
Deputies searched the residence and located a 42-year-old female, a 24-year-old male, and a 17-year-old male, all deceased at the scene. Sheriff Youngblood said at the conference, that the suspect is a 41-year-old male and the victims are the suspect's two sons and the mother of the sons. There was a restraining order which was effective June of this year, for prohibiting the suspect from possessing firearms. Two adult females, and two female juveniles, were able to escape the residence unharmed.
Deputy Campas was a five-year veteran with the Sheriff's Office and previously served as a U.S. Marine. He had various assignments throughout his time at KCSO, according to the Sheriff's Office.
Sheriff Youngblood said the investigation is still fluid and ongoing.
Deputy Phillip Campas Memorial Fund can be found here.
A GoFundMe page for the three family victims can be found here.
Video Credit: Califield