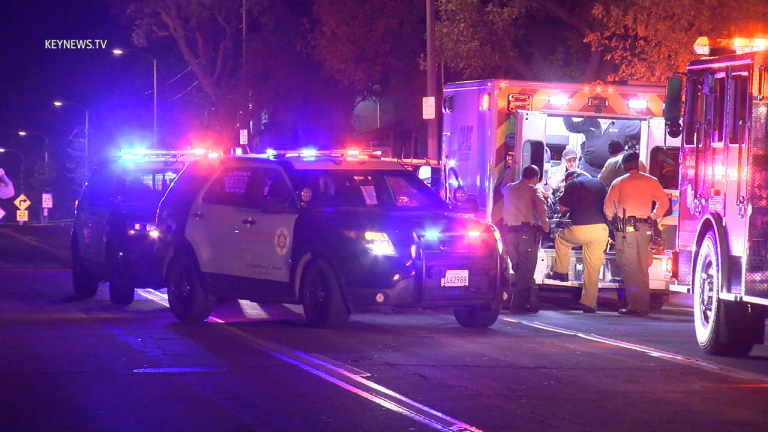 LA County Sheriffs Fatal DIS in Rowland Heights
LA County Sheriffs Deputies shoot a suspect in a white SUV after eluding capture for kidnapping.
Rowland Heights: LA County Sheriffs were involved in a shooting with a suspect in a white Jeep Cherokee who was fatally wounded on the 1900 block of Batson Avenue in Rowland Heights, according to Los Angeles County Sheriff's Department. The shooting took place around 11:50 p.m. Sunday. The deputy involved in the shooting was injured and transported to a local area hospital with minor injuries. Witnesses stated on camera they heard approximately 17 gun shots. Additional witnesses stated hearing a possible collision between the suspect vehicle and a gate. The name of the fatally wounded 28-year-old male was not identified pending notice of next of kin.
The Sheriff's Department stated that the investigation began at a strip mall around 10:30 p.m., Saturday, where a man and woman were having an argument and the woman tried to leave. The man then grabbed the woman, forced her into his vehicle, and fled. Deputies searched the area immediately in an effort to locate the suspect and rescue the kidnapped woman.
The woman was located four hours after the kidnapping. She suffered non-life-threatening injuries, treated at a local hospital, and released according to the Sheriff's Department. The 24-year-old unidentified woman was described as a longtime girlfriend of the suspect. The investigators on the case learned that the suspect was now driving a white Jeep Cherokee and issued a "Wanted" flier on Sunday morning.
After eluding deputies two more times during pursuits on Sunday, it wasn't until 11:45 p.m. that the Jeep was spotted backed into a carport of an apartment complex by a patrolling Industry Station deputy on the 1900 block of Batson Avenue.
The deputy pulled his vehicle in front of the parked SUV believing it may be the suspect's vehicle and then got out to investigate when the suspect appeared in the Jeep's driver seat. The suspect revved the engine and proceeded to ram the front end of the patrol vehicle, according to the Sheriff's Department. It was during this time, that the deputy's leg was caught underneath the vehicle pinning him. That's when the deputy-involved shooting took place.
Anyone with information regarding this case is urged to call the Sheriff's Homicide Bureau at 323-890-5500, or Crime Stoppers at 800-222-TIPS.
​