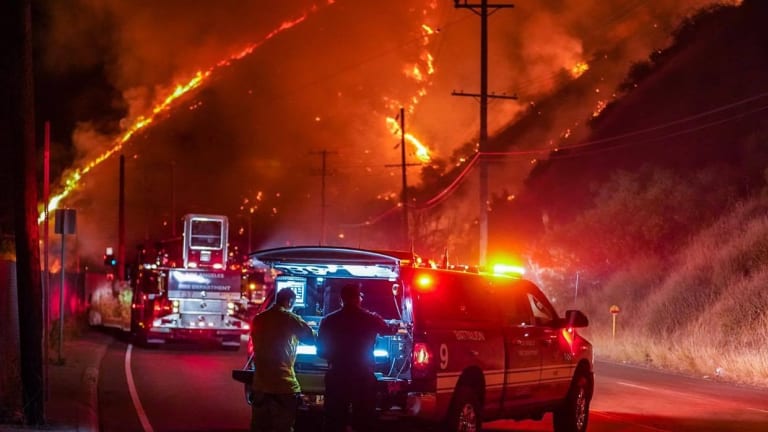 LAFD Battled Early Morning Brush Fire on Sepulveda Pass Hillside
Early morning fire in Sepulveda Pass broke out in a burn scar area caused by the Skirball fire in 2017.
Los Angeles: Firefighters were on scene fighting flames on a hillside in the Sepulveda Pass early Wednesday morning. The Los Angeles Fire Department assigned 206 personnel, along with 4 LAFD helicopters to aggressively contain a brush fire that started on a west facing slope of the Sepulveda Pass, entirely on the east side of the I-405 Freeway. According to LAFD, the flames were reported at 12:15 a.m. in the 1300 block of North Sepulveda Boulevard. As of 8:30 a.m., LAFD reported 25% containment, with crews continuing to work all day to complete the fire line and increase containment.
The fire was estimated to be around 50 acres of burning grass and brush in an old burn scar area, according to LAFD. The burn scar area was from the Skirball Fire of 2017 that torched 422 acres and destroyed six structures. The cause of that fire was illegal cooking.
L.A. County Fire Department helicopters joined at the peak of the battle, and were later released. LACoFD hand crews remained on the scene along with Mountain Recreation and Conservation Authority, as well as LAPD and CHP, according to LAFD. No structures were damaged, and there was no order for evacuation. Two firefighters were evaluated for minor injuries and released on scene. No reported civilian injuries. Cause of fire is unknown at this time and under investigation.
​
This story will be updated when further information is available.
Andrew Loera photos, Key News Network
​