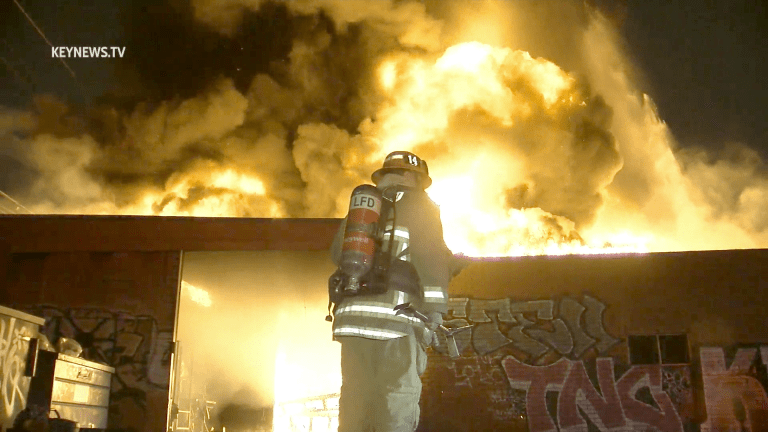 LAFD Battled Greater Alarm Commercial Structure Fire in Historic South-Central
Early morning blaze spread to nearby building as firefighters fought to contain the flames in both structures.
Los Angeles: At 12:50 a.m. Thursday, Feb.25, the Los Angeles Fire Department responded to a call of a structure fire on the 3700 block of South Grand Avenue. When crews arrived, heavy fire was showing from a 100' x 200' one-story commercial building. Two additional task forces were requested. Due to heavy fire that spread through the roof and possible loss of structural integrity, firefighters transitioned to a defensive operation, according to LAFD.
The fire spread to the adjacent 50' x 100' 2-story building where an offensive operation was conducted to extinguish the fire and save a large portion of the building, according to LAFD. As of 2:27 a.m., the original fire unit remained in defensive operation, with transitioning to more hand lines to address the remaining pockets of fire. It was reported that 99 firefighters were at the location. LAFD Arson investigators were called to the scene to conduct an investigation which is protocol for fires of this size. According to LAFD, LADWP was also at the scene addressing high voltage lines / transformers which were arcing and are a hazard to the firefighters. Update will follow later today.
​
Zak Holman Senior Photojournalist, Key News Network