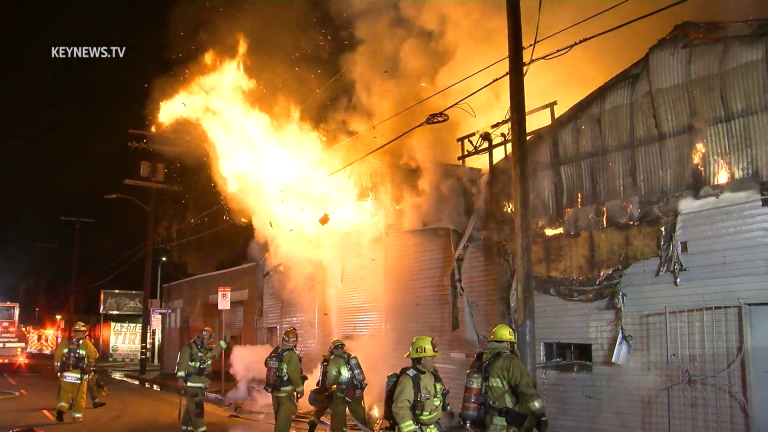 LAFD Battled Massive Blaze at Commercial Structure in Cypress Park
Early Tuesday morning, LAFD responded to a Greater Alarm structure fire on San Fernando Road.
Cypress Park: At 4:02 a.m. Tuesday, Feb. 2, 2021, the Los Angeles Fire Department responded to a call of a structure fire at 1004 N. San Fernando Road. Fire was showing through the roof as crews arrived at the 150' x 120' one story commercial structure. The Greater Alarm structure fire involved 115 LAFD personnel in defensive mode. The commercial structure was an automotive parts storage facility with dense interior storage, according to LAFD. Heavy equipment crews assisted with moving rubble and debris to provide better access to firefighters' hose streams.
At 6:15 a.m., LAFD reported that the fire had been contained within the structure, but not yet fully extinguished. San Fernando Road will remain closed to all traffic until all LAFD operations are complete. No injuries were reported.
At around 3:30 p.m., LAFD reported that the official "knockdown" of the fire was not declared until 10:41 a.m., 6 hours and 39 minutes after the original alarm. Firefighters will be staying many hours through the afternoon and possibly into the evening, to ensure no hotspots remain that could provide a source for the fire to rekindle. The cause of the fire is under active investigation.
​
Zak Holman, Senior Photojournalist