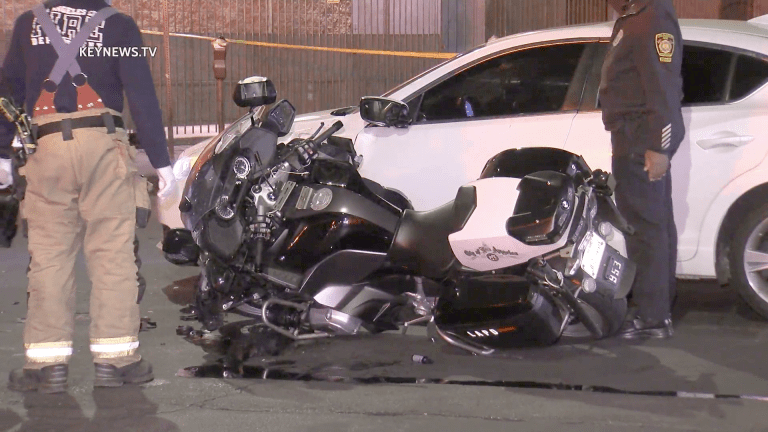 Los Angeles Police Department Motor Officer Struck by Vehicle Exiting Stop Sign
Driver taken into custody for preliminary investigation for possible DUI after collision with an LAPD motor officer on Sunday night in DTLA.
Los Angeles: An LAPD motor officer was struck by a white sedan at the intersection of Winston Street and Wall Street around 10:55 p.m. Sunday, May 16, 2021. The motor officer was traveling southbound on Wall Street approaching 5th Street and was hit by a vehicle traveling eastbound on Winston Street exiting from a stop sign, according to Sergeant Michael Pazzulla with Los Angeles Police Department Central Traffic Division at the scene interviewed by Key News. 
The officer sustained serious injuries to his right hand and was transported to a local area hospital by Los Angeles Fire Department paramedics. The officer is reported to be in stable condition. 
Sergeant Pazzulla said the white sedan driver was taken into custody for a preliminary investigation for a possible DUI. Witnesses stated the vehicle possibly ran through the stop sign.
Central Traffic is handling the investigation.
Zak Holman Senior Photojournalist, Key News Network