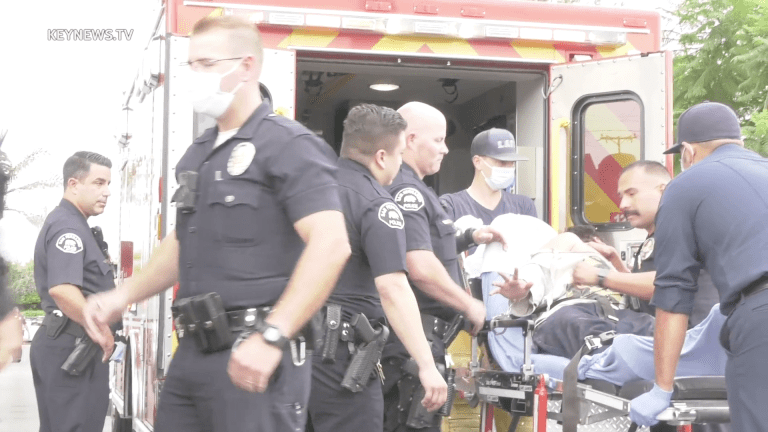 LAPD Officer Punches Grand Theft Auto Suspect in San Fernando
An LAPD officer responded with a punch after a suspect in custody spit in the direction of the officer.
San Fernando: Around 5:00 p.m., Saturday, Aug. 14, Los Angeles Police officers along with back up from San Fernando PD officers, responded to a call of grand theft auto with weapons involved. Units located the vehicle on Hubbard Street and 2nd Street in the City of San Fernando after it was involved in a collision with a wall. LAPD air unit support assisted officers in locating the suspects who were apprehended and arrested after fleeing on foot from the crashed vehicle.
During the transport from the police vehicle to the rescue ambulance, one of the suspects exhibited aggressive behavior by verbally taunting and spitting on officers and Los Angeles Fire Department personnel. The suspect strapped and handcuffed to the gurney was observed spitting in the direction of an officer. At that point, an officer was observed rushing toward the suspect, punching him.
Other officers at the scene pulled the officer away from the suspect. The suspect appeared to be knocked out, but that is unconfirmed. A mask was placed over the suspect's head by LAPD and LAFD to prevent further spitting. The incident occurred in LAPD Mission division.
Both suspects were transported by LAFD to local hospitals. 
Video Credit: Ramon D.