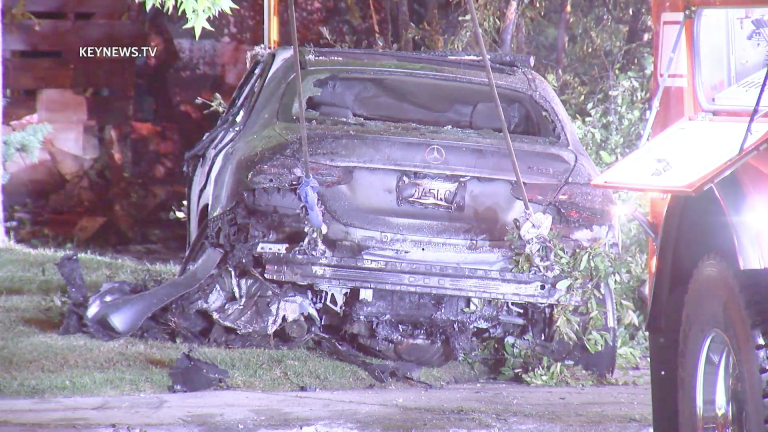 Male Killed in Hancock Park Fiery Car Crash
A male, approximately 20 years of age, was killed when his car landed in a tree adjacent to a garage and caught fire Thursday night.
Los Angeles: On Thursday, June 10, 2021, a Mercedes sedan crashed into a tree adjacent to a garage around 11:34 p.m. killing the driver in a fiery crash. The Los Angeles Fire Department responded to the incident at the intersection of 3rd Street and Rimpau Boulevard in Hancock Park and was able to knock down the fire in around 20 minutes that involved the car, tree, and garage of a home at the location. According to the LAFD Fire Chief at the scene, firefighters were able to contain the fire to the garage area to protect the home.
According to Los Angeles Police Department Captain Brian Wendling at the location, cars were possibly street racing each other at a high rate of speed. They were eastbound on 3rd Street when one of the cars lost control - vehicle possibly hit a curb - with a skid mark on the street in excess of 300 feet. The car went upright and landed in a tree adjacent to a garage. The car, tree and garage caught fire. Captain Wendling said the deceased victim of the crash was a male, approximately 20 years of age. A witness estimated the speed of the vehicle at approximately 90 mph. 
Around 45 firefighters were at the scene along with Urban Search and Rescue. According to the LAFD Chief, the home was yellow tagged where the garage is located. The homeowners will not be able to access the garage for safety reasons.
There were no injuries to anyone inside the home, and no firefighters were injured. 
Zak Holman Senior Photojournalist, Key News Network