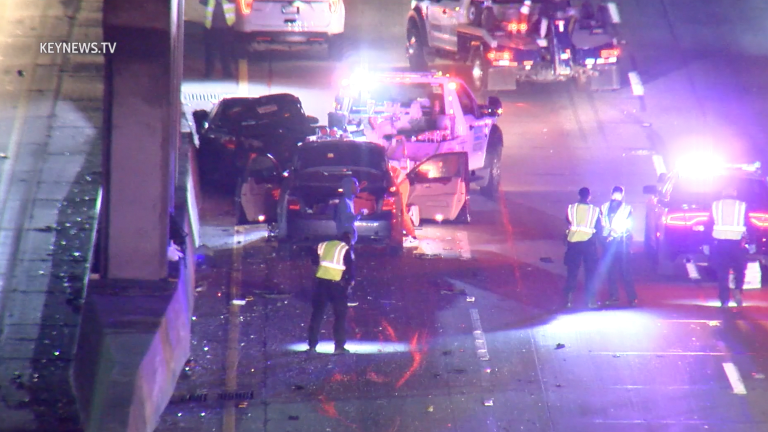 Man Jumping off Freeway Overpass Resulted in Two-Vehicle Collision (Graphic)
Unidentified male jumped off southbound 110 freeway overpass resulting in a two-vehicle crash Saturday night.
WARNING: Video is classified as Graphic Content
Los Angeles: CHP Central Bureau responded to a call at approximately 11:30 p.m. Saturday, Jan. 16, 2021, for a possible jumper at the southbound 110 Freeway over Wilshire crossing. En route to the incident, CHP received two placed calls of a possible body in lane, according to CHP Officer A. Baly. When CHP arrived, they found a male victim dead at the location in the #1 and #2 lanes approximately 25 yards past the Wilshire crossing, along with two vehicles stopped partially in the shoulder of the #1 lane.
The first vehicle driver involved in the collision hit the pedestrian in the #1 lane, pulled over to the shoulder, exited the vehicle, and then that vehicle was struck by another vehicle that also came into contact with the pedestrian. That party was transported to the hospital by LAFD with minor injuries. Caltrans assisted CHP with the closure of the #1, #2, and #3 lanes of the freeway.
CHP Officer Baly said CHP believes a total of three vehicles struck the pedestrian, and that the first one took off. Officer Daly recommends staying inside your disabled vehicle (while waiting for help) and if the vehicle is drivable, exit the freeway or go to the right shoulder.
​
Jack Reynolds Photojournalist, Key News Network