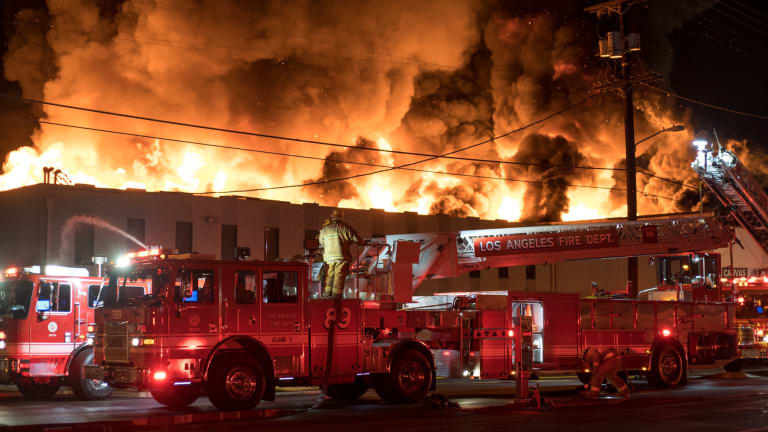 Massive Fire Erupts at Auto Body Parts Business
"Major emergency" structure fire burns a North Hollywood business.
​
​
North Hollywood: At 11:30 p.m. Friday, LAFD arrived at 6836 N Lankershim Boulevard near Vanowen Street to find a massive fire engulfing a 10,614 sq.ft. auto body parts business. 116 firefighters were assigned to this incident. According to LAFD, two additional task forces have been added which is now categorized as a "major emergency" structure fire. Downed power lines in front of the burning structure caused power outages to the immediate area.
​
​
​
Firefighters were ordered off the roof and out of the building to assume defensive posture as the fire continued to grow, according to Nicholas Prange of the Los Angeles Fire Department. The fire has spread to an adjacent structure blowing flames through that roof. No injuries are reported.
​
​
*UPDATE* 127 firefighters knocked down the fire in a little over 3 hours. According to LAFD, the blaze encompassed several commercial buildings spanning across the block between Lankershim Boulevard and Troost. The fire has been defeated by the Major Emergency assignment of personnel. The cause of the fire is unknown and under active investigation.