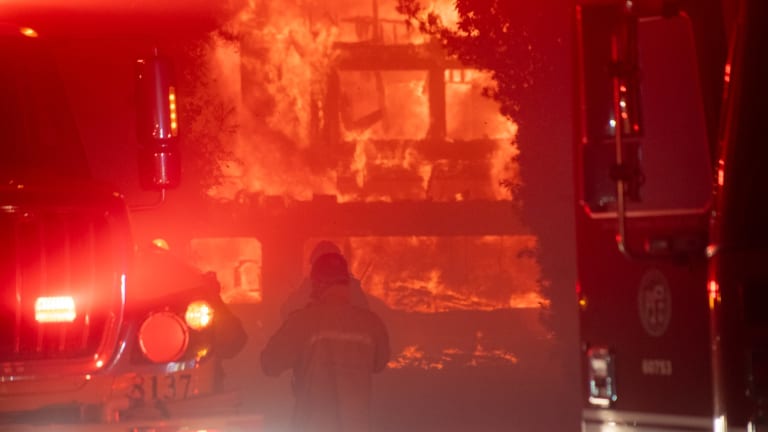 Massive Saddleridge Blaze Begins Fire Season for SoCal *UPDATED*
A growing 1,600 acre fire is raging in the mountains above Northridge and Sylmar this morning.
​
​ Sylmar: Fire season is off to an intense start for Southern California. A brush fire that started in Sylmar on Thursday, around 9:00 p.m. off the WB 210 freeway near Yarnell Street and Saddle Ridge Road, quickly spread into a massive brush fire when embers crossed over the Golden State (5) Freeway into Granada Hills, and then spread into Porter Ranch. In the early morning hours of Friday, the fire went from 60 acres to 1,600 acres with zero containment, to more than 4,000 acres by 3:30 a.m. fueled by gusty winds of around 25 - 60 mph. Homes have been damaged by the intense, quickly growing flames prompting evacuations affecting approximately 1,900 homes in those communities.
​
​The fire jumped the Golden State Freeway about 11:20 p.m. Thursday and sparked a fire west of the freeway and west of Balboa Boulevard.
Homes were reportedly on fire on Jolette Avenue north of Sesnon Boulevard in Granada Hills.
Mandatory evacuations were ordered for residents in Granada Hills and Porter Ranch. The 118 Freeway is also under mandatory evacuation.
​
​​Animal Services have been brought in to help with evacuating animals, and there is an evacuation center at Sylmar Recreation Center for residents and small pets.
Approximately 450 firefighters are committed to the effort, 77 LAFD apparatus committed to the effort, and multiple agencies are assisting from Los Angeles County, Cal Fire, Angeles National Forest, and multiple other jurisdictions across Southern California, according to the Saddleridge Fire Unified Command Media Briefing at 3:00 a.m. No injuries have been reported at this time.
​
​The fires prompted the closure of the northbound Golden State Freeway just south of the Foothill Freeway and the southbound Golden State Freeway at Calgrove Boulevard just after midnight, the California Highway Patrol reported.
*UPDATE* As of Friday morning- 1 person is dead from a heart attack, 2 are unaccounted for, and 2 injured. 4,700 acres burned, 0% containment. Water tankers as well as Phos-Chek drops in areas. CHP reports that the portion of the 118 that was closed due to the fire has just been reopened. 210 and 5 freeways shut down in both directions. SB 14 and NB 405 are closed.
At the 1:00 p.m. news conference just now, key personnel from the reporting jurisdictions, as well as politicians, were in attendance with updates and pertinent information for the public living in the affected areas. Many of the shelters are at capacity, with new ones opening throughout valley areas. For accurate, updated information, Monica Rodriguez, of the L.A.City Council, urged the public to register for "NotifyLA" for evacuation alerts. Text "ready" to 888777, or visit lafd.org for information. Residents are strongly advised to leave their homes if their community is under a mandatory evacuation because staying may seriously impede firefighting efforts. So far, the fire has burned 7,500 acres, with 13% containment. Public is urged not to go back to their homes until deemed safe by officials.
According to the 5 p.m. news conference held at Hansen Dam in the northeastern San Fernando Valley, there are currently evacuations in effect for 23,000 homes. At least 31 structures burned - 13 are a total loss. Remaining closed areas will be closed throughout the night and into tomorrow. Many hot spots still exist, LAPD Police Chief Michel Moore said. Mayor Garcetti was in attendance to thank all of the first responders, and it was announced that Governor Newsom has declared a state of emergency for the fire ravaged areas of L.A. and Riverside counties. 70,000 people remain under evacuation orders. To be allowed back into homes, residents must present ID. Officers have been deployed to help keep neighborhoods safe.
Wind is still a factor this evening, with red flag warning remaining in effect through Saturday. Fire is moving toward Santa Clarita. NB 5, and 14 remain closed. Phos-Chek and water drops continue. Winds aren't expected to be as strong tomorrow with continuing low humidity.
Sunday, Oct. 13, fire crews are now able to get control of the fire due to reduced winds. Containment is 41%, with full containment expected this week.
Update, Monday Oct. 14 - according to information from the Angeles National Forest, the change in weather resulting in lower wind speeds, higher humidity, and decreased temperatures, has enhanced the firefighters' efforts in extinguishing remaining hot spots. Size of area burned is 8,391 acres, with 44% perimeter contained. All evacuations have been lifted, and residents are asked to remain vigilant and drive cautiously as there are still public safety personnel working in the area. Residents are asked to report anything of concern to the authorities, and to 911 for emergencies. The reported injuries from the fire is to one firefighter with a minor eye injury, and a civilian who suffered a cardiac arrest and died at the hospital. As of right now, there is minimal fire activity, and Friday, Oct.18, is the estimated containment date.