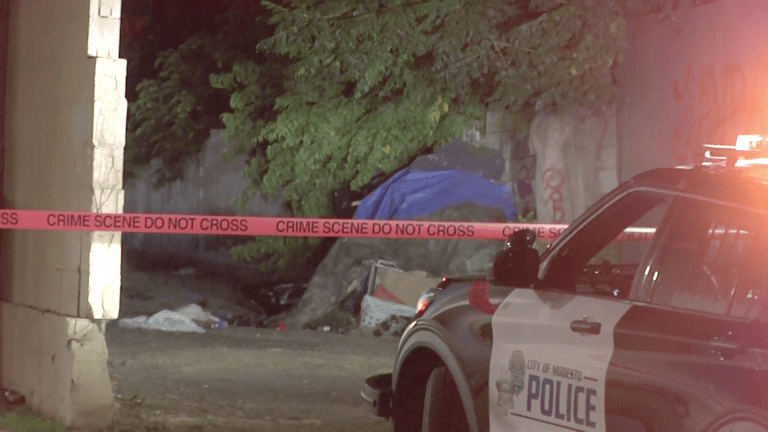 Modesto Hit-and-Run Homicide
One person was killed, one injured in an intentional hit-and-run in Modesto Wednesday morning.
Modesto: Modesto Police investigated an intentional hit-and-run that killed one person and injured another on Wednesday morning, June 23, 2021.  
According to the Modesto Police Department, the driver intentionally ran over two people. The incident occurred shortly after 12:00 a.m. in an alley behind the A&M Market on Maze Boulevard. When officers arrived at the scene, they located an injured male and an unresponsive injured female in the alley next to their tent. Officers provided CPR to the female until EMS arrived. Both victims were transported to a local hospital. The 61-year-old female victim did not survive her injuries. The 30-year-old male suffered moderate injuries, but is expected to survive.
MPD stated that through their investigation, they were able to determine the responsible intentionally ran over the victims while they were both in their tent after an altercation between the male victim and the responsible. The responsible drove away after the incident. The motive and details of the incident are still under investigation. 
After obtaining a vehicle description of the responsible vehicle, a Cadet with MPD located the responsible person and vehicle nearby. MPD officers took him into custody without incident, according to MPD.
Detectives with MPD's Violent Crimes Unit arrested 39-year-old Cruz Diaz of Merced on homicide charges. He was booked into the Stanislaus County Jail, according to MPD.
If you have any information regarding this homicide or witnessed the incident, please contact Detective Booza and Boozag@modestopd.com or Crime Stoppers at 209-521-4636.
Gaby Muro Photojournalist, Key News Network