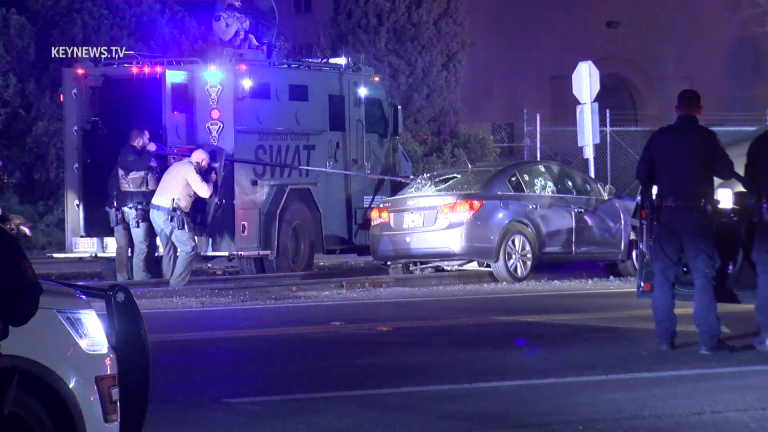 Modesto Stolen Vehicle Pursuit Ends with Less Lethal Force on Suspect
Authorities were successful in deploying less lethal force in apprehending a stolen car suspect early Saturday morning.
Modesto: Stanislaus County Sheriffs, and CHP were in pursuit Saturday morning, Feb. 6, 2021, at approximately 1:10 a.m. of a stolen vehicle with a solo female driver. Initial reports stated that the suspect was possibly armed. The woman lost control of the silver Chevy sedan getting stuck on the railroad tracks near the intersection of C street and Yosemite Boulevard. The suspect immediately moved into the trunk of the vehicle, barricading herself.
Officers at the scene deployed less lethal bean bag rounds, breaking the windows from the vehicle. After the bean bag rounds were un-successful in getting the suspect to surrender, the officers deployed CS gas and pepper ball rounds into the vehicle. Two SWAT armored vehicles were deployed to the location to protect officers as they attempted to remove the suspect from the trunk. Shortly before 3 a.m., officers made access to the trunk and the suspect was removed. A K-9 bit the suspect, causing wounds to her arm. She was transported to a local area hospital in stable condition.
​
Zak Holman Senior Photojournalist, Key News Network