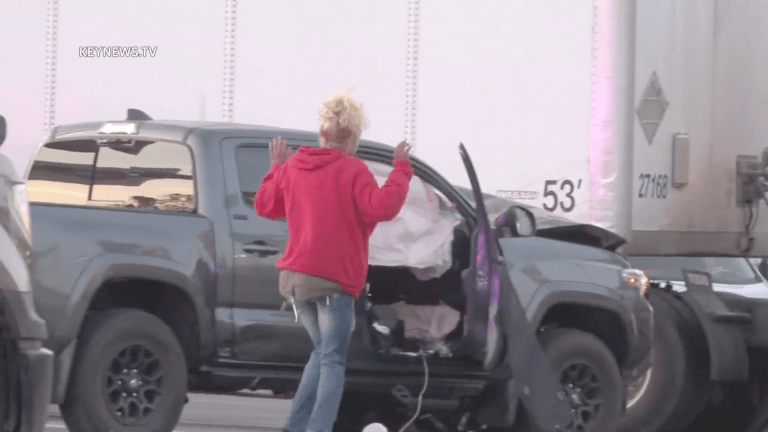 Murder Suspect Leading Pursuit Slams into Big Rig, Taken into Custody
An alleged murder suspect with passenger led authorities on a high-speed chase through multiple counties on Tuesday.
Pomona: A high speed police pursuit with an alleged murder suspect who was driving with a passenger in the front seat, came to an end in Pomona around 7:00 p.m. with the male suspect in custody after a long chase that started in Riverside County on Tuesday, Apr. 6, 2021. The man's dangerous driving placed other vehicles and pedestrians in potential danger. At one point in the pursuit, two vehicles collided head-on trying to avoid the erratic driver. Riverside County Sheriff's Deputies and California Highway Patrol units pursued the dark colored pick-up truck south to San Diego, into the Ontario area of San Bernardino County, then ending in Pomona in Los Angeles County.
Along the course of the chase, the driver could be seen throwing items from the vehicle at various locations, and taking both hands off the wheel waving out the window at high speed on the freeway. Toward the end of the pursuit, the man led police through a parking lot speeding and snaking dangerously around parked cars. He then drove through a gas station and onto the roadway where he collided with the front end of a big rig.
The collision with the big rig deployed the pick-up truck's air bags, and within a short time the man exited the vehicle. With police instruction, he made his way to officers and was taken into custody. He was then transported by ambulance to a hospital with unknown injuries. The female passenger exited the vehicle next per police instruction, and was reportedly taken into custody.
​
Nathan Wilking Photojournalist, Key News Network
​