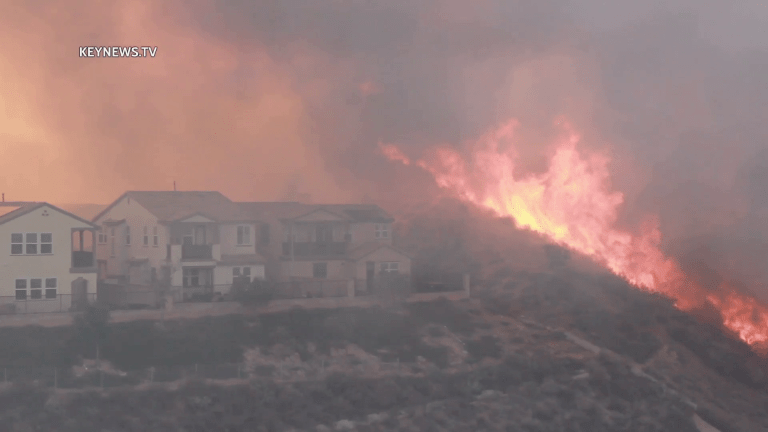 North Fire Burns Close to Homes, Evacuation Issued
North Fire quickly grew from one acre to over 500 acres by Wednesday night.
Castaic, Los Angeles County: Los Angeles County Fire Department responded to a brush fire early Wednesday afternoon, Apr. 28, 2021, in the area of the 29000 block of The Old Road, east of the 5 Freeway. Upon arrival, crews located approximately one acre of brush burning in an upward direction. The fire continued to grow throughout the afternoon and into the night. Multiple agencies from Southern California assisted LACoFD in the firefight, along with California Highway Patrol for road closures and evacuations.
According to LACoFD, the fire spread to over 600 acres by Wednesday night. Mandatory evacuation orders were in effect for north and west of West Hills Drive, north of Iron Village Drive, and north and west of Tesoro Del Valle, north of Copper Hill Drive. Ryan Canyon Loop remained in Evacuation Warning status.
On Thursday, Apr. 29, LACoFD reported all evacuated residents were back in their homes. Containment was at 25% with crews engaged in strengthening control lines, LACoFD tweeted. Firefighters faced high temperatures, low relative humidity, and at times, gusty winds. 
On Saturday, May 1, Cal Fire tweeted that the fire remained at 552 acres (updated by mapping), and was 97% contained.
Oscar Sol Photojournalist, Key News Network