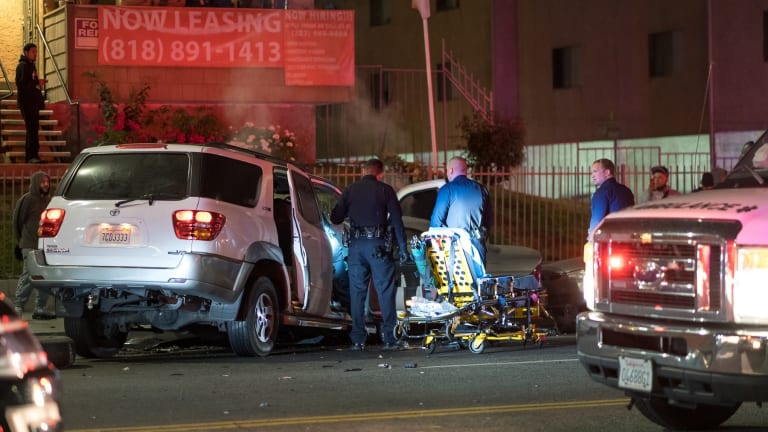 North Hills Head-On DUI Crash, 2 Adults 3 Children in Critical Condition
North Hills-Traffic DUI head-on collision results in two adults, and three children in critical condition.
North Hills, CA: Two SUV's were involved in a head-on collision on the 15200 block of W Nordhoff Street. LAPD officers reportedly witnessed the accident and were first to arrive on scene. LAPD officers immediately requested LAFD resources to respond to the collision for a multi-victim collision at 11:54 p.m. Officers did not wait for LAFD to respond and instead transported two infants to the hospital by police vehicle. A second LAPD vehicle was used to transport a third child.
​
​Per LAPD Traffic Detectives at scene, the female driver of the white SUV was determined to have been under the influence. The woman and her three children were transported in varying conditions to Holy Cross Hospital. The female driver collided with a black SUV which was operated by an Uber driver, who was also transported in serious but stable condition.
​
4-6 month old twins were transported in critical condition by LAPD. One of the twins was later flown by LAFD to UCLA in critical condition. Firefighters were able to extricate the trapped female victim after roughly ten minutes. The male Uber driver, and female mother were transported to Holy Cross by LAFD. Per LAPD the mother of the children in the white SUV drifted into oncoming traffic and collided with the black SUV in a head-on collision. A total of two adults, and three young children were seriously injured in the collision.
​
​LAPD urges the public to not drink and drive citing this incident as a result of those decisions. The traffic collision is being investigated as a "severe" traffic accident, and is not being reported as a fatality incident at this time. Two parked cars were also damaged in the collision. Per LAPD, the children were not secured properly in child restraints. Valley Traffic Division is investigating the collision.
Read update on story here.
​
​
Andrew Loera Photos, Key News Network