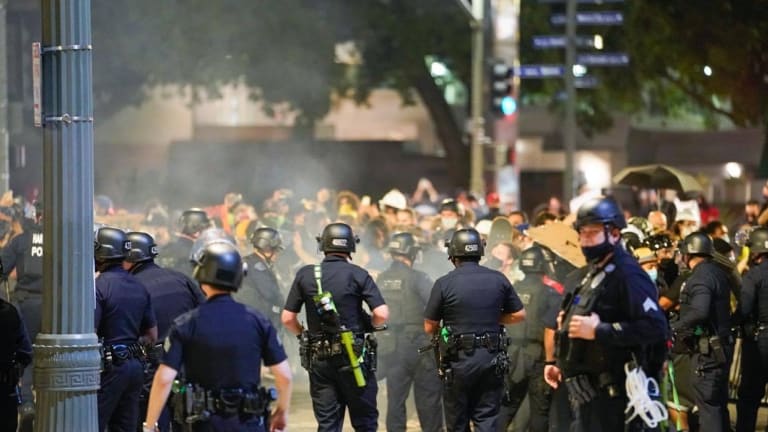 Recent Police Shootings Spark Protest in DTLA, Assembly Declared Unlawful
Demonstrators marched to LAPD headquarters to protest shootings of Anthony McClain and Jacob Blake.
Los Angeles, August 25, 2020: According to LAPD, around 200 demonstrators made their way along First Street, after marching along Spring Street, toward Los Angeles City Hall and police headquarters around 10:00 p.m. Monday night.
​
​
The protest started out peaceful with no reports of clashes between protestors and police. Police were outfitted in riot gear as protestors chanted close by. The protest was declared an unlawful assembly around 11:20 p.m., according to LAPD.
​
​
Around midnight, the protest started shifting to a violent confrontation. Key News photojournalist at the location observed rubber bullets fired by police, with smoke bombs and water bottles thrown by some protestors. The protestors also broke the barricade that was erected in front of LAPD headquarters.
​
​
Two recent police shootings reportedly sparked the nighttime protest in downtown Los Angeles - the deadly shooting of Anthony McClain in Pasadena on August 15, and Sunday's shooting of Jacob Blake in Kenosha, Wisconsin. Blake is reported to be in stable condition according to multiple media reports.
​
​
Andrew Loera photos, Key News Network