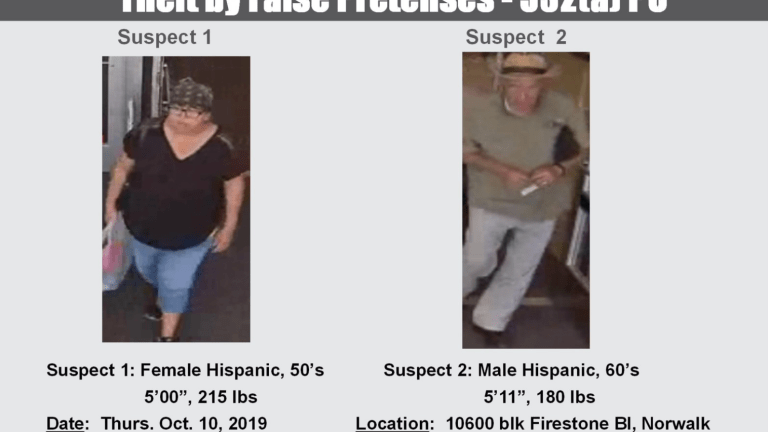 Sheriff's Department Needs Help in Identifying Suspects Involved in Fraud
Suspects sold fake gold brick to elderly woman.
Los Angeles: The Los Angeles County Sheriff's Department needs help in identifying two suspects caught on a store's surveillance camera leaving a popular retail establishment. In the latest scam, which occurred on October 10, 2019, the two suspects took advantage of an 80-year-old woman at the establishment, convincing her to buy a "gold brick" by offering the brick for half its value of $4,000. The suspects claimed that they could not sell the brick because of their immigration status, so the 80-year-old woman drove the suspects in her car to a nearby bank where she made the withdrawal and handed the fraudsters $4,000 in cash, according to LACSD. The Norwalk Sheriff's Station are looking for these two con artists, who are targeting and swindling elderly individuals in several cities including Norwalk, Paramount and Anaheim.
The female fraudster is described as Hispanic, approximately 40-50 years old, about 5 feet tall, weighing approximately 210 pounds. She wore a dark bandana, eyeglasses, a black shirt and jeans.
The second fraudster is described as a male Hispanic, approximately 60-years-old, around 5 feet 11 inches tall, and weighing approximately 180 pounds. He wore a straw hat, a light green shirt and tan/beige colored pants. Both suspects are picture in the attached flyer and in the main photo of this story.
LACSD also wants the public to know that the elderly are frequent targets of con artists because of their politeness and willingness to listen. They are often naive to these sort of situations.
LACSD offers the following information in order to avoid being scammed:
If someone approaches you and tries to sell you anything in public; it's probably a trick or a fake product. Walk away.
Don't believe any strangers out in public attempting to sell you gold or diamonds for a cheaper price. Walk away.
If the deal or prize is too good to be true; it's more than likely a scam. Walk away and don't give these individuals your attention and time.
Please contact the Norwalk Sheriff's Station if you, or anyone you know recognizes one or both of the two pictured fraudsters. Call Detective Hernandez at (562) 466-5431, or email aahernan@lasd.org. You can also provide information anonymously through "Crime Stoppers" at (800) 222- TIPS.
​
​
​
​