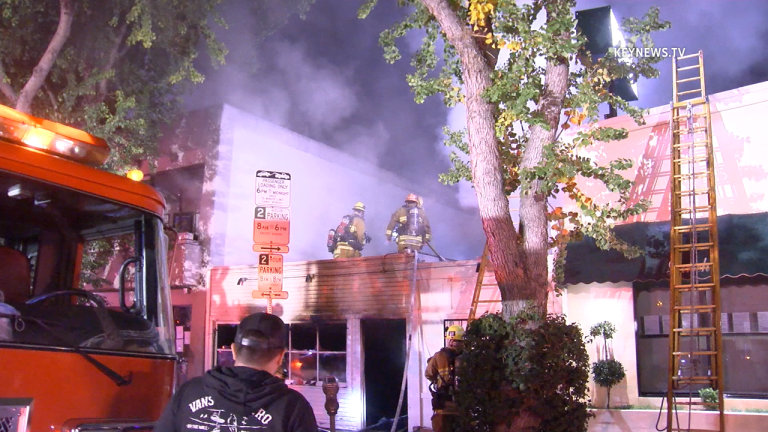 Sherman Oaks Structure Fire
Small commercial building on fire in Sherman Oaks on Ventura Boulevard.
LA City Fire responded to a reported structure fire Monday night at 11:57p.m. Units arrived at the location and found a small one-story commercial building with fire showing. Firefighters requested additional resources to the location to assist with firefighting efforts. Knockdown was achieved in approximately twenty minutes. No victims or injuries reported at this time. Cause is under active investigation.
Sherman Oaks Structure Fire
11-23-2020 11:59pm 13422 W Ventura Bl MAP: https://bit.ly/3pSQikaOne-story commercial structure with fire showing. Offensive mode.
INC#1582; Fire Station 78; Battalion 14; Valley Bureau; Council District 4; Dispatched Units BC10 BC14 E102 E108 E278 E288 E88 RA78 RA878 T78 T88; Dispatch Channel 9; TAC 17; LAFD Spokesperson: Nicholas Prange
https://bit.ly/3pSQikaOne-story
Update KNOCKDOWN Sherman Oaks Structure Fire
11-24-2020 12:23am 13422 W Ventura Bl MAP: https://bit.ly/3pSQikaThe first 35 LAFD firefighters extinguished the flames in a one-story commercial building in 24 minutes, skillfully protecting all nearby buildings. Firefighters performed a coordinated interior attack with vertical ventilation. Primary and secondary searches were clear (no patients found). The cause of the fire is under investigation.
INC#1582; Fire Station 78; Battalion 14; Valley Bureau; Council District 4; Dispatched Units BC10 BC14 E102 E108 E278 E288 E88 EM14 RA102 RA78 RA878 T78 T88; Dispatch Channel 9; TAC 17; LAFD Spokesperson: Nicholas Prange