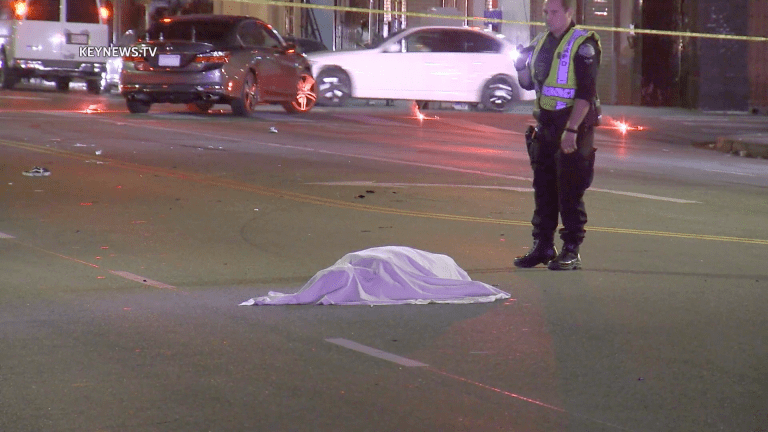 South Park Fatal Tow Truck Hit-and-Run, Person of Interest in Custody
A pedestrian was struck and killed by a tow truck that fled the scene on Broadway Wednesday night.
South Park: A white tow truck is a prime suspect in a fatality hit-and-run incident involving a pedestrian Wednesday night, Aug. 11, on the 5400 block of Broadway. Los Angeles Fire Department and Los Angeles Police Department officers responded to the location at approximately 10:14 p.m. LAFD pronounced the victim deceased at the scene. The victim has been identified as Oswaldo Dominguez-Flores. LAPD Central Traffic is handling the investigation.
On Thursday, Sept. 2, LAPD Central Traffic Division stated in a tweet that a person of interest, Javier Garcia, had turned himself in and is now in custody. The 2003-2006 white Chevy Wrecker Tow Truck Crew Cab with a blue wheel lift still needs to be located, as well as the identification of witnesses who were with Javier Garcia prior to the collision. 
Video of the traffic collision and other tow truck drivers are posted on the Central Traffic Division's YouTube account "LAPD Central Traffic," and on Twitter @LAPDCTD24. 
Information received from any citizen that leads to the conviction of Javier Garcia, may qualify for a $50,000 Reward. Anyone with information is asked to please call Detective Campos, Central Traffic Detectives, at (213) 833-3713 or email Detective Campos at 31480@lapd.online. Anyone wishing to remain anonymous should call the Los Angeles Regional Crime Stoppers at 1-800-222-TIPS (8477) or use the website, lacrimestoppers.org.