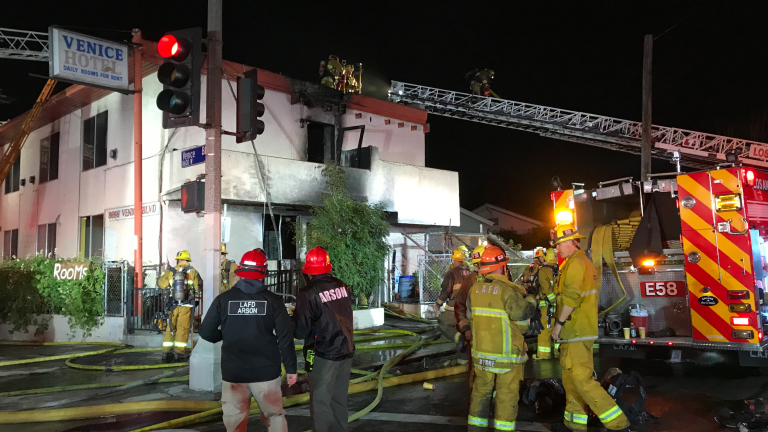 Space Heater Cause of Hotel Fire Injures Eight, One Man Dead in Mid City
LAFD responded to a fire in a two-story hotel in Mid City that injured eight, and killed one man.
Los Angeles: Friday, February 7, 2020, at 2:04 a.m., Los Angles Fire Department responded to a call of a structure fire on the 8600 block of W Venice Boulevard in the Mid City area of Los Angeles. Heavy fire was showing from both floors of the two-story center hallway Venice Hotel. According to LAFD Captain Branden Silverman, firefighters mounted an aggressive fire attack while simultaneously rescuing multiple victims and providing emergency care. 105 firefighters extinguished the blaze in 39 minutes.
​
​
The total patient count, due to the fire, was eight - a female was transported by private auto with a family member to a local hospital for injuries sustained by the fire, four transported by LAFD ambulance, one firefighter in fair condition, one declined transport after assessment/treatment on scene, and one by private auto. One male died at the scene.
​
​
The Red Cross was on the scene assisting displaced residents and worked with LAFD's Emergency Management Department to set up a shelter in a nearby recreation center.
​
​
After a thorough investigation, the cause of the fire was determined to be accidental and caused by an electric space heater placed too close to combustibles.
​
​
"'Give Space Heaters Space' is the safety message we would like everyone to remember," said LAFD Captain Silverman.
​
Main Photo Credit: Los Angeles Fire Department
Story Photos: Courtesy LAFD Captain Branden Silverman, LAFD Community Risk Reduction Unit/PIO, along with additional incident information.