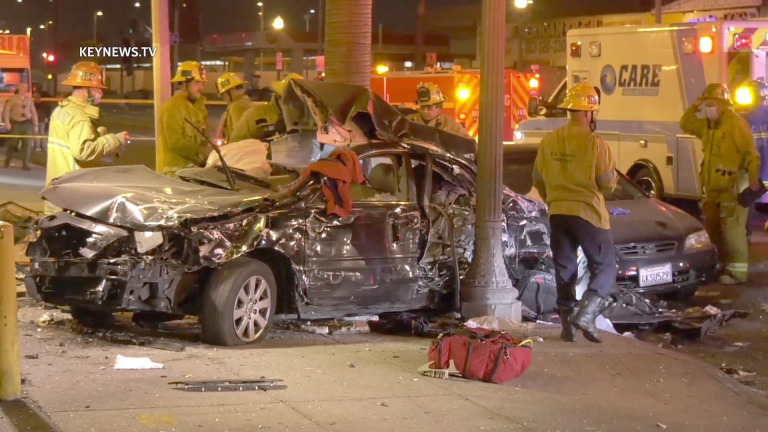 Street Racing Fatal in Florence-Firestone Area
One dead, two transported to hospital after an alleged street race collision on Florence Avenue.
Los Angeles: Around 10:50 p.m., Sunday, Apr. 11, a call went out to Los County Fire Department division 6 and Los Angeles Sheriff's Department regarding a vehicle that crashed into a bank on the 1100 block of East Florence Avenue in unincorporated Los Angeles. When they arrived at the scene, there were three people trapped in the vehicle. LACoFD used the Jaws of Life to cut them free. One male and one female were transported to a local hospital but one person in the vehicle was pronounced dead at the scene. Witnesses at the scene said the vehicle was street racing with another vehicle at a high rate of speed and lost control and crashed into the building. Around 100 people arrived at the scene and one person struck a Sheriff's officer in the face trying to make it to the vehicle that hit the structure. LASD declared an unlawful assembly and shut down the surrounding area pending investigation of the crash.
​
Jack Reynolds Photojournalist, Key News Network
​