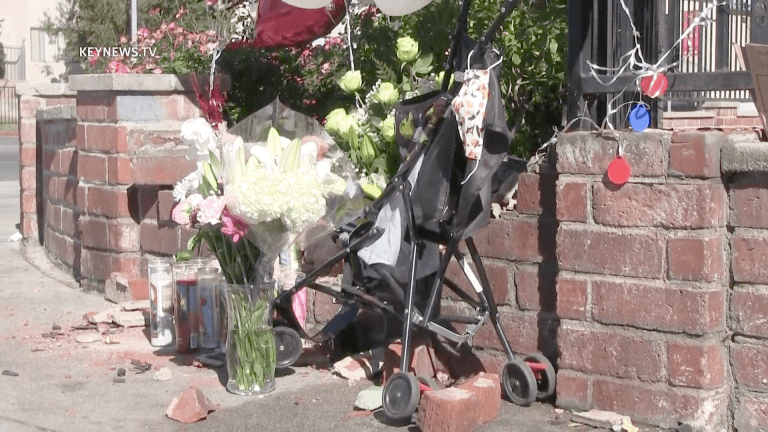 Toddler Struck and Killed by Vehicle Involved in 2-Vehicle Collision in North Hills
An 18-month-old boy was fatally struck by a vehicle as it 'bounced' into a wall during a two-vehicle collision in North Hills early Sunday morning.
North Hills: A two-vehicle collision on Nordhoff Street sent one of the vehicles into a low brick wall causing injuries to a woman and killing an 18-month-old boy.
The Los Angeles Police Department and Los Angeles Fire Department responded to the reported collision around 7:35 a.m. Sunday, Oct. 17, on the 15500 block of West Nordhoff Street near Langdon Avenue in North Hills.
According to Margaret Stewart with LAFD, the two-car collision resulted in one of the vehicles being 'bounced' into a wall which then impacted an adult female and 18-month-old male. The adult female was transported to the hospital in serious condition and the 18-month-old was transported in grave condition. 
The Los Angeles Police Department reported that the child succumbed to his injuries and died. It has not been determined at this time if the child and adult victim were related. Candles, flowers, balloons and plush toys were placed at the scene of the fatal accident later in the day. A stroller was also part of the makeshift memorial. Debris from the collision was still evident in the street. 
According to the Los Angeles Police Department news release, a traffic collision occurred at Nordhoff Street and Langdon Avenue when a silver colored 2016 Honda HRV, heading westbound Nordhoff Street, sideswiped an approaching vehicle that was traveling eastbound Nordhoff Street as the Honda attempted to negotiate a left turn onto Langdon Avenue.
The approaching vehicle was a gray colored, 4-door sedan, possibly a Toyota Camry, according to LAPD. Due to the nature of the impact, the Honda HRV changed its direction and began heading towards the southeast corner that was populated by several pedestrians. The Honda HRV drove onto the sidewalk colliding with some of the pedestrians. One of the pedestrians was an 18-month-old child in a stroller. The Honda HRV pinned the stroller and victim against a brick planter. The driver of the gray colored sedan continued to drive eastbound Nordhoff Street without stopping, identifying themselves, or attempting to render aid, according to the LAPD news release. LAPD's Valley Traffic Division detectives are investigating the collision.