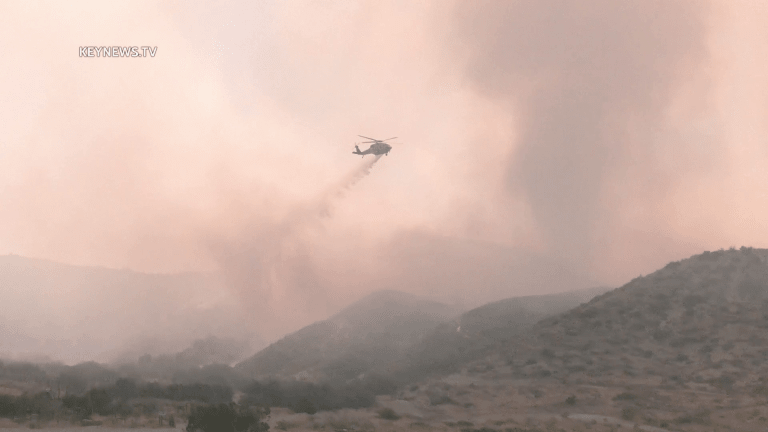 Tumbleweed Fire Holding at 1,000 Acres with 65% Containment
Firefighters responded to a brush fire off the Southbound I-5 Freeway south of Gorman early Sunday afternoon that continued to burn into Sunday night.
Gorman: On Sunday, July 4, 2021, Los Angeles County Fire Department responded to a brush fire in the early afternoon, known as the "Tumbleweed Fire," at the southbound 15 at Gorman Road. Approximately 200 acres were burning at a rapid rate in gusty winds, according to the Los Angeles County Fire Department. Evacuations south of Gorman OHV Park that were initiated at that time, included the support of the Los Angeles County Sheriff's Department. A second alarm response was requested. Kern County and Ventura County Fire Departments joined with LACoFD to battle the fire.
Around 5:00 p.m., LACoFD reported the fire at 600 acres with 0% containment, with two minor firefighter injuries reported. At that point, two LACoFD strike teams were activated and a third staged.
Just after 8:00 p.m., the fire was at 1,000 acres, with 10% containment. Evacuations were in the Hungry Valley Recreation area only, according to LACoFD. No structures have been lost or damaged. 
Cal Fire reported via Twitter around 8:30 a.m. Monday, July 5, that the fire remains 1000 acres with 10% contained.
On Tuesday, July 6, Los Angeles County Fie Department updated the fire's status to 65% containment, holding at 1,000 acres. 
A heat wave due this week is expected to elevate fire weather conditions throughout Southern California. LACoFD is encouraging residents who live in wild-fire prone areas to be prepared. Find their Ready! Set! Go! Wildfire Action Plan HERE.
Keith Johnson Photojournalist, Key News Network