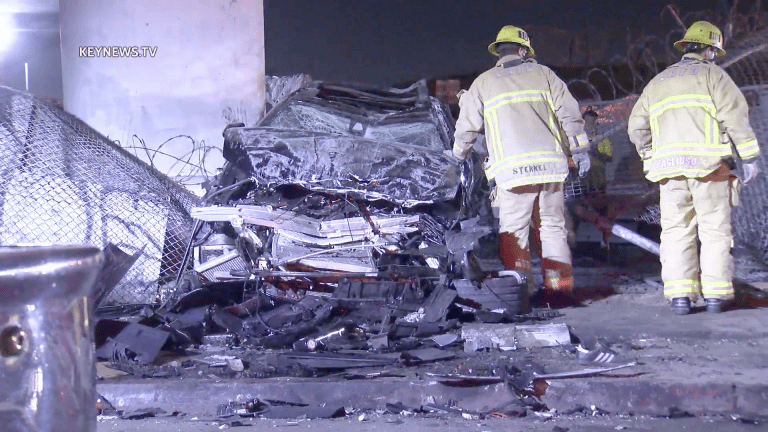 Vehicle Falls to Street Below I-10 Freeway After Leaving Roadway at Alameda (GRAPHIC)
Driver suffered moderate injuries after vehicle left the roadway and landed on East 16th Street below the I-10 Freeway early Thursday morning.
WARNING: Video is classified as Graphic Content
Los Angeles: A black sedan flew from the Eastbound I-10 Freeway Alameda off-ramp landing onto the 1800 block of East 16th Street below. California Highway Patrol received a report of a BMW vehicle traveling at a high rate of speed around 12:15 a.m. Thursday, May 20, 2021. According to CHP Sergeant Jeff Lane with CHP Central Los Angeles area at the scene interviewed by Key News, the vehicle was traveling at a high rate of speed, exited the Eastbound I-10 at the Alameda off-ramp, overturned, left the roadway, hit the Alameda on-ramp where it then came down onto the street below. 
Los Angeles Firefighters responded to the scene and were able to cut the driver from the vehicle after approximately ten minutes. The passenger was able to self extricate and was only complaining of pain. The driver sustained moderate injuries, as well as minor injuries to the passenger, according to CHP Sergeant Jeff Lane. They were both transported to a local area hospital by Los Angeles Fire Department paramedics. CHP Central division is handling the investigation. 
Zak Holman Senior Photojournalist, Key News Network