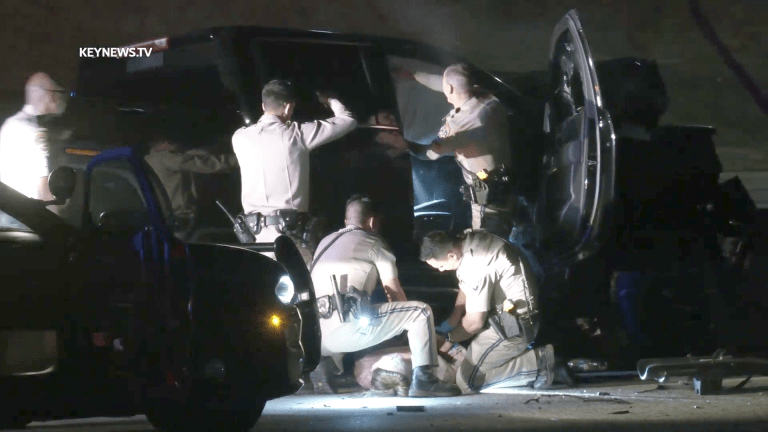 Video: Female Driver in Pickup Truck Leads Police on High-Speed Pursuit
Police pursuit ended when the female driver of a pickup truck crashed into a semi truck on the 5 Freeway Tuesday evening.
Los Angeles: A high-speed pursuit that started just before 6:30 p.m. in Ventura County on Tuesday, Nov. 16, ended when the pursued pickup truck crashed into the back of a semi truck around 7:00 p.m. on the 5 Freeway in Los Angeles, and the female driver was transported to a hospital.
The pursuit began in Ventura County with authorities pursuing a woman driving a black GMC Denali pickup truck. The driver led the police on a high-speed chase on the Southbound 5 (Golden State Freeway) through Mission Hills, Burbank and Glendale. The pickup truck then crashed into the back of a semi-truck around 7:00 p.m., coming to rest on the left shoulder of the Southbound 5 Freeway. California Highway Patrol closed all lanes of both sides of the freeway. 
Officers approached the crashed pickup truck and broke the passenger side window to extricate the female driver from the vehicle. Key News footage from the scene shows the woman being pulled from the vehicle to the ground. Los Angeles Fire Department firefighter/paramedics performed CPR on the driver as she was transported to a local hospital. Authorities did not immediately confirm her condition. 
City News Service contributed to this report.