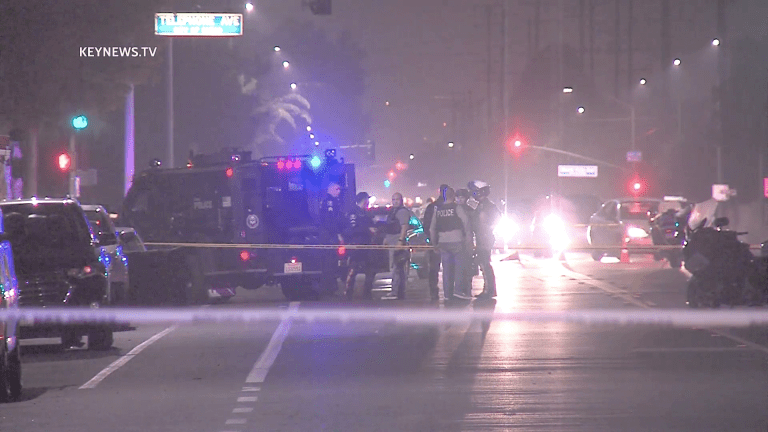 Video: Man Fatally Shot in Chino, Suspect Outstanding
A man was found shot to death on Philadelphia Street in Chino late Friday afternoon.
Chino: Chino Police Department officers responded to a 911 call at approximately 4:31 p.m. of shots fired in the area of the 5100 block of Philadelphia Street, according to Sergeant Jacquev of the Chino Police Department interviewed at the scene by Key News. When officers arrived on the scene, they saw a male victim laying on the street with a gunshot wound to the head. Jacquev said the victim was pronounced dead at the scene by medical personnel. 
According to Jacquev, a large perimeter has been set up to search for the outstanding suspect. He asks all residents to stay away from the area. A mobile command center was also set up at the scene. Jacquev said one witness described the suspect as a Hispanic male, around 5 feet 9 inches tall, thin build, wearing a blue business suit. The suspect was seen walking southbound through a nearby apartment complex, according to an update by CPD.
It is believed the suspect knew the victim and is considered armed and dangerous, according to a Chino Police Department update Friday evening. Another update was announced by CPD at 7:74 p.m., that the suspect is no longer in the containment area, however a large police presence remained while officers continue their investigation.
Anyone with information regarding this incident is asked to call the Chino Police Department at (909) 628-1234.