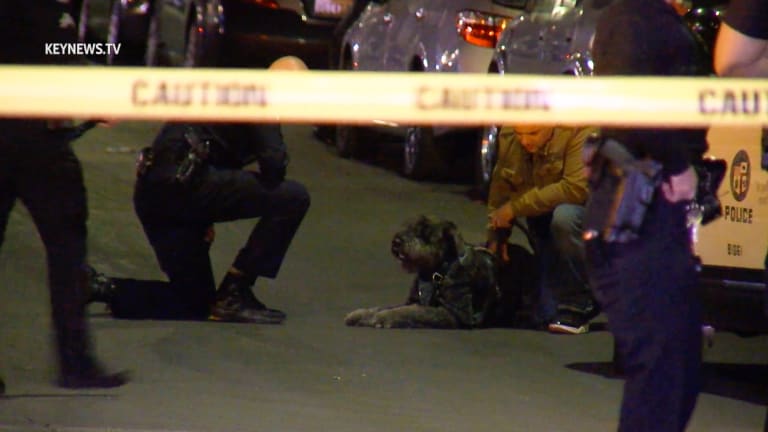 Woman Killed, Dog Shot in Koreatown in January, Suspect Now in Custody
An unidentified woman was shot and killed and her dog wounded in shooting Saturday morning.
*Update*
LAPD has announced through a news release early Tuesday morning, Feb. 23, that the LAPD-FBI Fugitive Task Force arrested Lamont Dorsey, 28, resident of Los Angeles, for the murder of Katherine* McNally. Dorsey was located on the 900 block of Olive Street.
Dorsey was booked for murder and held without bail. The case will be presented to the District Attorney's Office for filing consideration on Wednesday, February 24, 2021. Arraignment has been scheduled for March 17, 2021, in Criminal Court. Dorsey has also been charged with one count each of assault with a semiautomatic firearm, cruelty to an animal and possession of a firearm by a felon. The Criminal complaint filed Wednesday alleges that he personally used a semiautomatic firearm. Dorsey has an April 20219 conviction for robbery in Los Angeles County.
This is an ongoing investigation. Anyone with information is encourage to contact West Bureau Homicide Investigators at (213) 382-9470.
*****The victim's first name has appeared as "Katherine" and "Katharine" by authorities.
Koreatown: A woman was killed and her dog shot early Saturday morning near the intersection of Council Street and N Mariposa Avenue. LAPD Olympic Division responded to a call of shots fired at 1:11 a.m. Saturday, Jan.9, 2021, at the location and found a female victim who was shot in her vehicle. Witnesses and officers rendered aid, but she was pronounced dead at the scene by LAFD Paramedics. According to witnesses, the victim was visiting friends in the area. When she was walking back to her car, she was approached by the unidentified suspect. Her dog started barking and then there were a couple of shots fired. According to LAPD Lieutenant John Radtke, officer in charge of West Bureau Homicide, witnesses observed the suspect running southbound on Mariposa. The suspect was described as a male, Black, in his 20s, wearing all dark clothing.
The motive is unknown, but according to Lieutenant Radtke, the evidence suggests a possible carjacking.
The victim's dog was struck by gunfire and taken to a veterinary hospital. He is expected to recover.
Lieutenant Radtke is asking for the public's help in solving this case. Please contact LAPD West Bureau Homicide Olympic Division at (213) 382-9470.
To remain anonymous, please use the LA Crime Stoppers website-
​
Zak Holman Photojournalist, Key News Network