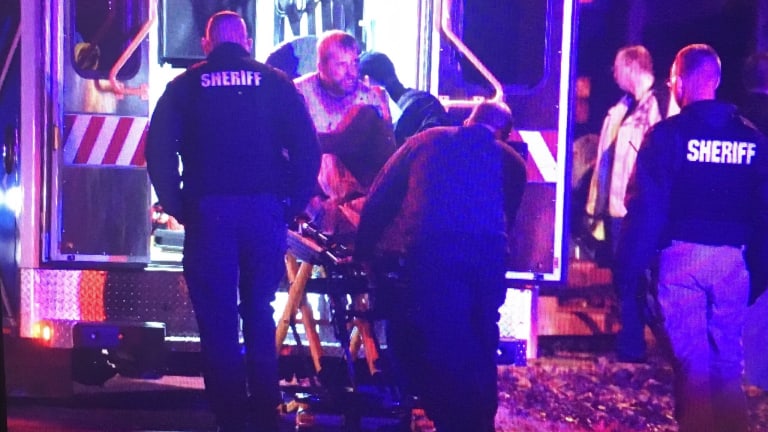 Manhunt for a Murder Suspect.
A manhunt for a suspect wanted in several charges. suspect was caught in Rural Newton County Missouri.
​
​
​
​
​
​
​
​
This Statement Below is From LT Williams of Newton County Sheriff's Department.
Lawrence County Sheriff's Department with assistance from Green County Sheriff's Department, was attempting to contact Mr. Abney in reference to a missing/endangered person. Barry County Sheriff's Department was asked to check a location for a vehicle that Mr. Abney was possible driving. Barry County found the vehicle outside of Monett and attempted to stop the vehicle and a pursuit began. The vehicle was pursued into Newton County and as Newton County Sheriff's Department was attempting to assist, the vehicle crashed at Teal and Hwy 86. Mr. Abney fled from the vehicle and was tracked by Green County's K-9 unit to a camper trailer near Norway Road and Raccoon Road. Mr. Abney refused to comply with directives given by law enforcement and the Green County K-9 was deployed and Mr. Abney was taken into custody shortly after.
​
​
More Press Release From Newton County Sheriff.
​
PRESS RELEASE
​
On 12/06/2019 at 6:28PM, the Newton County Sheriff's Office was contacted by the Barry County Sheriff's Office. They were in pursuit of a vehicle that was entering Newton County. They stated they were pursuing a possible homicide suspect out of Greene County.
​
At 7:10PM the suspect's vehicle was located unoccupied in a field at Highway 86 and Shannon Springs Road in Stark City.
​
At 8:53PM the suspect was spotted on Raccoon Road wearing only a shirt. Deputies from Newton County, Lawrence County, Barry County and Greene County as well as Troopers with the Missouri State Highway Patrol were all in the area searching for the suspect.
​
At 10:36PM the suspect was located hiding in a camper trailer. A Greene County K9 was assaulted by the suspect when he slammed a door on the dog. The dog was released and was able to detain the suspect until taken into custody by Deputies.
​
The suspect, a 36 year old male, was transported to Freeman Hospital West for treatment and was then taken to Lawrence County Jail. There were two felony warrants for his arrest. One from Lawrence County and one from Greene County.
-Sheriff Chris Jennings
​
​
​
​
​