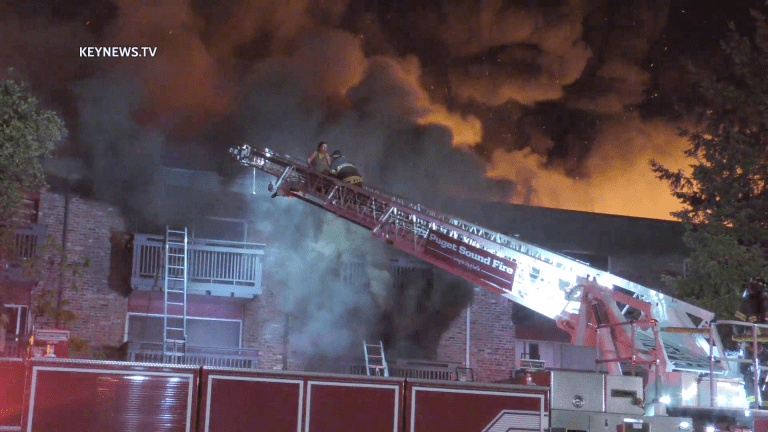 Firefighters Rescue Residents from Smoke Filled Balconies of Burning Apartment Building in Seatac
Residents were rescued off balconies by firefighters during a 3rd alarm apartment fire just before midnight Saturday on South 192nd Street in Seatac.
Seatac, WA: Just before midnight Saturday, July 10, 2021, night units from Puget Sound Fire were dispatched for reports of a fire at the Hanover Apartments located in the 3100 block of South 192nd Street in the city of Seatac. Fire crews arrived shortly after dispatch to find a three-story garden style apartment with heavy fire involvement in two of the three floors. Due to the size of the fire, a 2nd alarm was immediately requested. 
As crews were setting up for the initial attack, they observed people on balconies outside of the apartments needing to be rescued. Utilizing the ladder truck, firefighters were able to rescue injured residents. Among the injured were at least two critical and two seriously injured patients that were all transported to Harborview. 
Shortly after the rescues, a 3rd alarm was requested. Firefighters from the entire valley region responded to the blaze. Firefighters were on the scene for several hours working on extinguishing the building. Approximately 80 residents were displaced by the fire and are working with Red Cross.
Jon Normandin Photojournalist, Key News Network