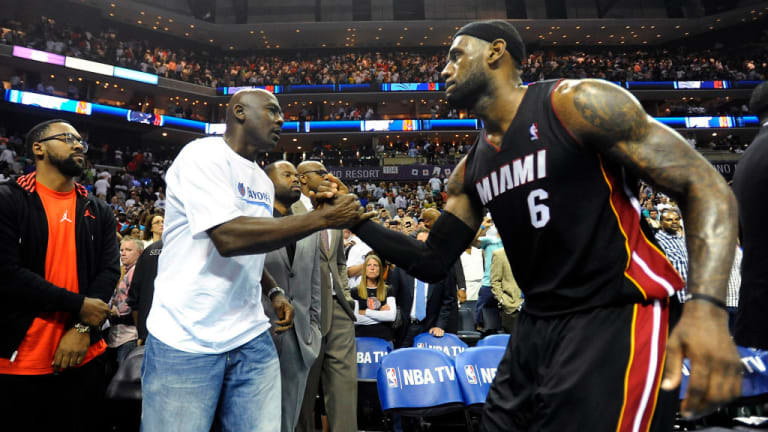 Sorry, Lebron Fans. James Has Not Caught Jordan..Yet.
This title changes nothing.
Fans of LeBron James are going to feel a bit more vindicated in saying he's the G.O.A.T, or "greatest of all time". Fans of Michael Jordan will continue to say "King James" still a country mile away from His Airness. Really, the only change that's going to occur is Bronny James' ability to sit down for a while after LeBron puts that belt to his backside for his little instagram blunder a few weeks back.
Honestly, I'm just tired of it all.
Personally, I believe Michael Jordan is the greatest of all time, but LeBron's resume is too extensive to ignore — he's the second-best player in the NBA and certainly the best players of our generation overall. I consider myself a diehard NBA fan, but I wasn't born when Jordan came into the league and was too young to remember the Bulls' first three-peat. I was 7 during Chicago's 72-10 season in 1995-96 and while I can easily recall it, expecting many people 35 and under to do their research is asking for too much.
In the 21st century, there was Kobe and LeBron. Maybe Tim Duncan. That's it.
I really don't like debating people, because too many pick and choose what points to hit in order to make their GOAT look better. If one can't explain why their player is better without belittling the other, I don't want to hear it — we just have another presidential debate. I would love to appreciate an all-time great more and enjoy LeBron's fourth championship, but there's one problem.
The fan base is so damn toxic.
Granted, Jordan diehards aren't fun to deal with either. I liken it to the Carolina-Duke basketball rivalry — if you grew up as a Tar Heel, you can tolerate annoying Carolina fans that much more and vice versa. Still, I can appreciate some of the great Blue Devils who came through Durham before listening to one of Duke's fans spoil the entire vibe. Everyone has favorites and that's cool; I just want people to have a little more education between eras.
Now, I'm starting to see what my elders were talking about.
Before Jordan, you had Magic Johnson and Larry Bird. Before them, there was Bill Russell and Wilt Chamberlain. In between, there was Kareem Abdul-Jabbar (and cocaine if you want to talk about how many careers it ended in the 1970s). Either way, someone has held a GOAT-like resume at one point in time, and some will continue to stress the reasoning for their person. As a result, we can't appreciate greatness in the moment and it just feels tainted.
LeBron James did something monumental: won his fourth title and fourth Finals MVP. There's only one other person who can boast the same accolades — Michael Jordan. This wasn't a tainted title, this wasn't a cakewalk and LeBron deserves this moment. He hasn't changed my opinion as far as the GOAT conversation and I might have to explain why I believe Jordan is better later. For now, let's appreciate this moment.
Also, let's be thankful none of us are Bronny James.