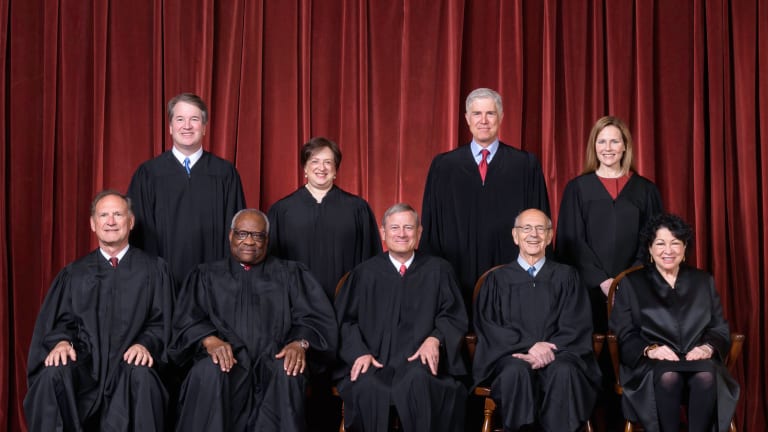 Are We in the Final Days of Abortion as a Constitutional Right?
The Supreme Court is expected to uphold a Mississippi law banning abortion after 15 weeks, effectively ending Roe v. Wade's half-century run as law of the land.
The first arguments in Roe v. Wade began on December 13, 1971. In a coincidence of history, the fate of that landmark ruling is set to be decided close to the same day 50 years later. This week, the Supreme Court's conservative majority is expected to uphold a Mississippi law prohibiting abortion after the 15th week of pregnancy. As depicted in this detailed map published by the New York Times, such a ruling would functionally repeal Roe v. Wade across much of the southern and midwestern United States. In all, 26 states are thought to be preparing restrictive abortion laws.  
If the Court upholds the Mississippi law, it will complete the unraveling of Roe that began in early September, when a split Court upheld a Texas law banning abortions after the detection of a fetal heartbeat (usually around six weeks) with no exceptions for rape or incest. Just as that ruling did not directly address the landmark 1973 decision, the imminent ruling may likewise be absent language describing Roe as wrongfully decided or "overruled." Partly this is a procedural matter. As Ian Millhiser writes in Vox, "When the Court announces that it will give a case full briefing and oral argument, it also announces which legal question it intends to resolve in that case. The question [before the Court] is not 'Should Roe v. Wade be overruled,' it is a slightly narrower question: 'Whether all pre-viability prohibitions on elective abortions are unconstitutional.'"
Even if the result is not quite the technical end of the Constitutional right to terminate pregnancy, Millhiser concludes that "there is every reason to believe [this decision] ends disastrously for abortion rights."
According to a Nov. 16 ABC News/Washington Post poll, 60% of Americans support Roe v. Wade, while nearly as many (58%) oppose state laws restricting abortion. A full three-quarters of respondents endorsed the view that the decision to have an abortion should be between a woman and her doctor and not "regulated by law." 
A breakdown of this last data point by age and race shows much greater support within some sub-groups of the population. According to the poll's press release, "The percentage of women who say the decision should be left to the woman and her doctor...reaches 86 percent among women under 40, as well as a similar 78 percent of older women. It's higher still among Black people, 91 percent, compared with about seven in 10 [for] whites and Hispanics alike."  
For perspectives on the Court's historic ruling, see:
Salon's take on the history of the Federalist Society, the conservative legal group that, in the words of author Kirk Swearingen, is "largely responsible for the current Supreme Court." 
At the website of the liberal Brennan Center for Justice, a number of essays have been collected in defense of abortion rights as "essential to democracy."
Ramesh Ponnuru writes on "the phony history" of Roe v. Wade in the conservative National Review.  
CNN reports on "the surprising history of abortion in the United States."
And finally, Ms. magazine, the iconic feminist publication founded a year before Roe was decided, argues that abortion advocates should pivot from a focus on legal battles to funding direct aid programs to help women in states effected by the restrictive new laws.