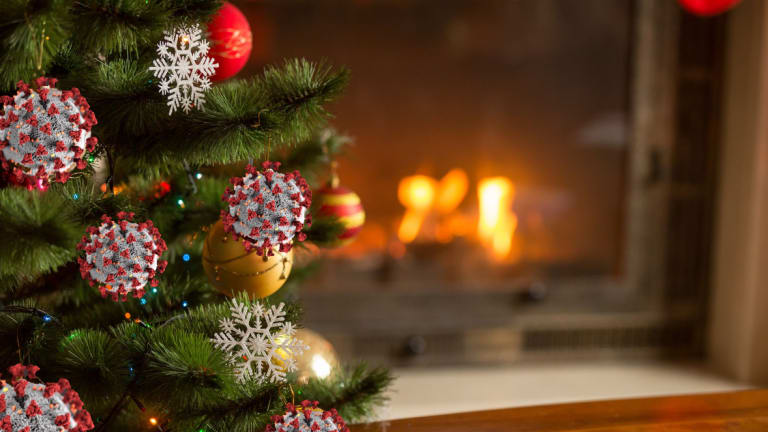 Biden, Experts Offer Bleak Vision of Months to Come Amid COVID-19 Surge
The wily Omicron variant — more infectious but associated with less severe disease — is set to define the pandemic's third winter.
In one of his most pointed and dour statements concerning the direction of the COVID-19 pandemic, President Joe Biden said yesterday that unvaccinated Americans can look forward to "a winter of severe illness and death."
America was still in the midst of a surge in Delta variant cases after Thanksgiving when the more infectious Omicron variant was first identified in South Africa. The variant has since been identified in dozens of U.S. states, and as of last Saturday, was responsible for three-percent of COVID-19 cases nationally, with the numbers rising exponentially.
Céline Gounder, infectious disease specialist and epidemiologist at New York University and Bellevue Hospital, tells the Guardian that at present it's unclear if the Delta or Omicron variant will become the dominant strain, or if they will co-exist, adding, "We anticipate an increase in hospitalizations, an increase in deaths and an increase in the burden on the health care system over the next couple of months."
With hospital staffs and facilities already under strain, and with millions of Americans expected to gather indoors in the coming weeks for Christmas and New Year celebrations, cases are expected to begin spiking in mid-January, according to the Centers for Disease Control and Prevention.
During an appearance on CNN, Michael Osterholm, who served on Biden's coronavirus advisory team during the transition, referred to current scenario as a "viral blizzard" and a "perfect storm."  
Given the pandemic fatigue and pushback against another round of lockdowns and stay at home orders experienced by many Americans, President Biden has generally shied away from raising the prospect of further such constraints, limiting his overall COVID battle plan to simply urging Americans to get vaccinated in an effort to curtail the disease. Given the new variant's ability to circumvent the immunity provided by current vaccines, it is unclear how long the White House will maintain this position.
Since early 2020, the country has passed 800,000 coronavirus deaths, including one-percent of Americans over the age of 65.
For more on the Omicron variant and how it might alter the course of the pandemic, see:
The Hill and the Guardian present the dire words of officials bracing the public for a difficult winter.
National Public Radio on the scientist who identified Omicron and "was saddened by the world's reaction." 
The Daily Beast on reports that South Africa, Ground Zero for Omicron, is "Already Past the Peak."