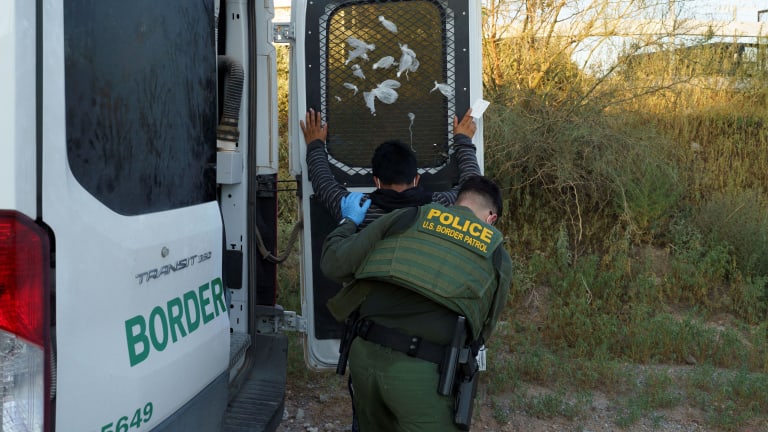 Border Crisis Continues to Divide Congress, Nation
Republican governors descended on the border and issues a 10-point plan to resolving the crisis, while Biden issued a vaccination mandate to federal law enforcement officers.
Ten Republican governors visited the U.S.-Mexico border for a press conference to address immigration, citing President Biden's policies as a reason for the crisis.
The group issued a 10-point plan to resolve the crisis, including the completion of the border wall, deployment of additional federal law enforcement officers, and resuming the deportation of criminals who are in the United States illegally.
In addition to the 10 who made the trip to Texas, an additional 14 governors sent a letter asking to meet with the President to find solutions. The President has not yet met with them.
When asked why Biden hasn't yet visited the southern border in the wake of the crisis, White House press secretary Jen Psaki stated that the president felt it was more constructive to focus on immigration reform and helping "reform the broken policies of the last several years."
Biden recently issued a mandate that all border patrol officers must be vaccinated by Nov. 1 or else face termination. In the early days of the pandemic, the website of U.S. Customs and Border Protection contained memorial pages to the many employees who had lost their lives to COVID-19. The website states that 11,497 CBP employees have tested positive, 47 of whom have died.
In response to the mandate, several senators wrote a letter to the Department of Homeland Security disagreeing with the policy, which does not require immigrants crossing into the United States to get vaccinated.
Rep. Jim Jordan (R-OH) stated that the mandate takes away freedoms from "the very people we represent." He also stated that those crossing the border are given a choice to get vaccinated, but that border patrol agents don't get the same respect. "All they get is attacked by you guys if they happen to ride a horse," he said, referring to an incident in September that went viral after it was photographed.
The situation at the border has been a divisive issue for the country and was declared a crisis in 2014.