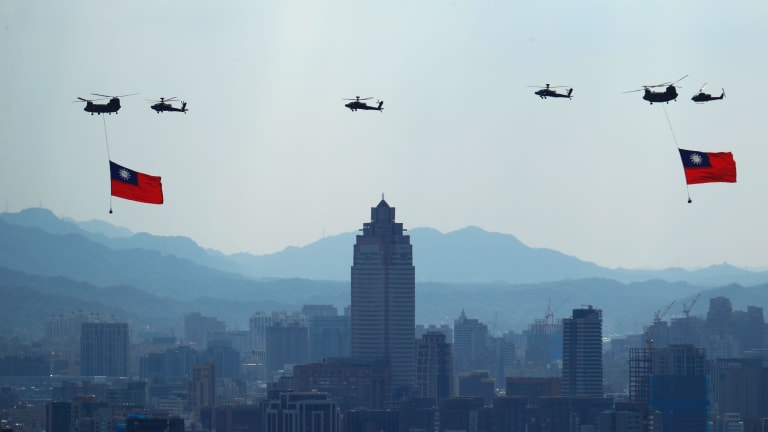 China Incursion Into Taiwan Airspace Seen as Sign of Testing U.S. Alliances
A record number of Chinese warplanes entered Taiwan airspace in the days leading up to the island country's National Day.
On Tuesday, China sent 56 warplanes into Taiwan airspace, the highest number ever reported. The previous record was 39, just days earlier.
Some analysts called the situation a possible warning to Taiwan in the days leading up to its National Day, celebrated annually on October 10.
In a recent Roundtable interview, Keith Rose predicted that the U.S. withdrawal from Afghanistan would have repercussions with our allies. "Taiwan must be thinking right now, if they won't support the people that saved their lives for twenty years, how are they going to support us?"
The sentiment was echoed in a New York Times opinion piece that said the Afghanistan withdrawal could "embolden" China to attack Taiwan, seeing the U.S. as no longer willing to support allies such as Taiwan.
Taiwan's President Tsai Ing-wen wrote that it would be "catastrophic" if her nation came back under Chinese control. "It would signal that in today's global contest of values, authoritarianism has the upper hand over democracy."
Taiwan identifies as a sovereign state, despite China viewing the island nation as a territory that it seeks to regain control of. China has blamed the current tensions with Taiwan on the U.S.
Tsai told a security forum that China's incursions into Taiwanese airspace have generated "new tensions and systemic contradictions that could have a devastating effect on international security and the global economy if they are not handled carefully."
CNN shared a propaganda video released by Taiwan, intended to display the nation's military prowess.
China is expected to unveil a new stealth fighter jet intended to rival those of the U.S. However, the global superpower currently maintains only two aircraft carriers, compared to the 10 of the U.S. Navy.