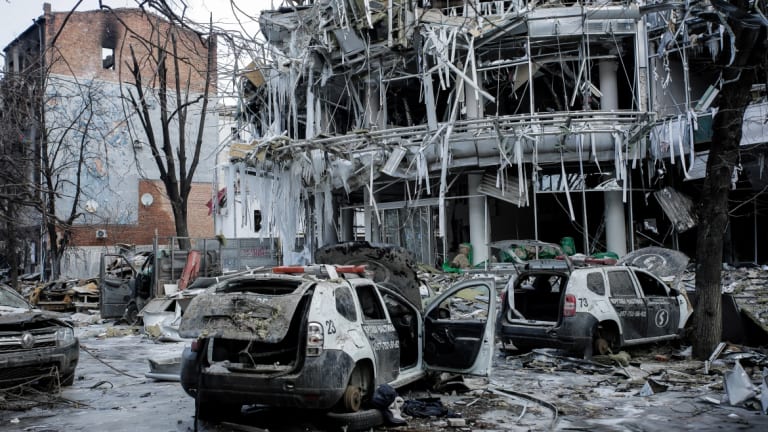 Exclusive: Crypto Investors Will be Key to Rebuilding Ukraine, says Government Digital Transformation Guru
Bravado or realism? "When we win the war," Ukraine's top crypto official said, the global crypto community will be welcome in Ukraine with a new legal framework, and new tax rules that will make Ukraine an ideal place to do crypto business.
In an exclusive zoom call to Roundtable Crypto from the war-torn capital Kyiv, Ukraine's Deputy Minister for Digital Transformation Alex Bornyakov said help from the global crypto community has been vital to turning the tide against Russia's unprovoked invasion. He urged the global crypto and bitcoin communities to come to Ukraine once his country defeat's Russia's army.
"When we win the war," Bornyakov said, "please come to Kyiv and consider Ukraine as a place to conduct [crypto] business. This can definitely help us, because after the war, we need to take care of our economy."
---
---
Ukraine began transforming its economy to embrace cryptocurrencies about two years ago, and last month, in the midst of the war, President Volodymyr Zelenskyy signed into law a legal framework to support crypto-related business.
"We want to become a crypto-friendly jurisdiction for all the businesses across the world which are in the virtual assets field," Bornyakov said.
Just before joining Roundtable Crypto in the zoom call, Bornyakov said he had been on a call with the country's central bank and other regulators to discuss a tax framework for crypto currencies.
"We hope that in a week or two, we're going to release a new law, which will define the taxation rules in Ukraine for cryptocurrencies. So stay tuned, we are definitely going to bring news about that to the crypto community," said Boryakov.
"And once the war is over, we will welcome all the companies from around the world to come to Ukraine, to come to Kyiv and see how powerful the local blockchain community is and how favorable our government regulations are for all the companies in this area," Bornyakov said.
More than $70 million in crypto donations have poured into the country's crypto wallet, used to buy medical supplies, combat rations and equipment for troops, said Bornyakov. "This gives us freedom to make decisions much, much faster than what is regulated usually takes in Ukraine."
He asked the crypto community to continue to donate to Ukraine at donate.digital.gov.ua. Bornyakov noted that the country has launched a series of NFT collections on its website to support the war effort, and another group to support rebuilding the natio\n's cultural heritage that was destroyed in the war.
"Every NFT you buy from those collections is going to the special fund and will be used to support our economy or military and humanitarian efforts," said Bornyakov.
To donate Crypto to Ukraine, please click on the QR code below, then
* Go to Coinbase
* Hit the "Send" button
* Hit the "Scan" button
Roundtable guests:
Alex Bornyakov, Deputy Minister for Digital Transformation, Government of Ukraine
Brittany Kaiser, Crypto adviser to the Government of Ukraine
Alex Mashinsky, CEO Celsius.Network