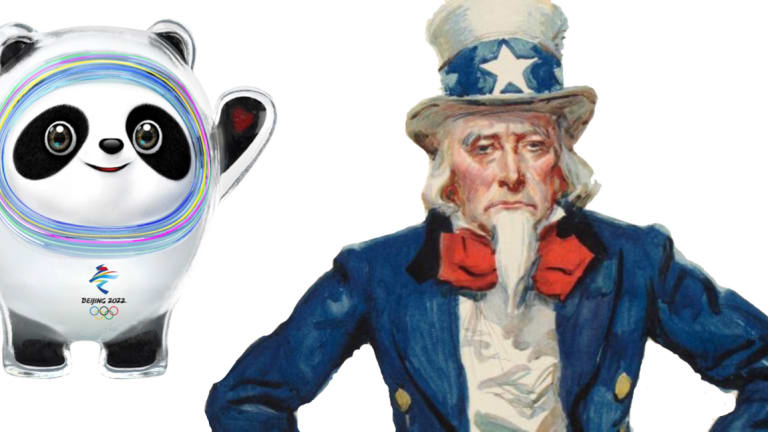 As China-Taiwan Tensions Grow, Washington Announces a Boycott of the Winter Games
This is the latest chapter in a long history of the Games being used as a stage for global political theater.
On Monday, President Joe Biden announced a U.S. diplomatic boycott of the 2022 Winter Olympics in Beijing set to begin in February. Although American athletes will still be allowed to compete, and the Games will still be broadcast on American networks, no representatives of the U.S. government will be in attendance. The move is meant as a protest against what the White House says are widespread human rights violations and threatening actions aimed at Taiwan, a U.S. ally. 
The boycott comes on the heels of another politically charged sports story in China: the case of Chinese tennis star Peng Shuai, who raised international concerns when she disappeared for nearly three weeks after a social media post in which she accused China's former vice premiere of sexual assault. While the tennis star was later revealed to be healthy and well in Beijing, the specifics of her circumstances remain unclear.
The U.S. move follows Lithuania's announcement last week that neither its president nor any other government officials would be attending the games in response to increased diplomatic and trade hostilities with China over Lithuania's strengthening relationship with Taiwan. Citing COVID fears as the primary factor, New Zealand announced Tuesday that they would likewise not send officials to the games. England, Australia and Canada are currently weighing their own responses.
White House press secretary Jen Psaki said in a statement, "The athletes on Team USA have our full support. We will be behind them 100% as we cheer them on from home. We will not be contributing to the fanfare of the Games."
The last U.S. Olympics boycott came during the 1980 Summer Olympics in Moscow, when Washington was joined by 66 other nations in protesting the Soviet Union's invasion of Afghanistan the previous year. In that instance, individual athletes were allowed to compete if they chose, but only under the Olympic flag, not the flag of their home nation. (Infobae has put together a handy history of geopolitics intersecting with the Games.)
Chinese government officials were quick to respond to President Biden's announcement.
Former Chinese envoy to the U.K., Liu Xiaoming, said, "US politicians keep hyping a 'diplomatic boycott' without even being invited to the Games. This wishful thinking and pure grandstanding is aimed at political manipulation…It is a grave travesty of the spirit of the Olympic Charter, a blatant political provocation and a serious affront to the 14 billion Chinese people." He went on to hint that any boycott would be met with serious but unspecified retribution. Ironically, China boycotted the 1956 Summer Olympics in Melbourne and the 1964 Summer Olympics in Tokyo on political grounds, and in both 1952 and 1976 forced what is now known as Taiwan to withdraw from the games.
But times have changed, and the boycott has potentially far greater ramifications than an act of ceremonial thumb-nosing. 
Under Xi Jinping, China has been eager to present itself as a serious world power, and has been quick to retaliate against any perceived insult. Having been on the receiving end of such retribution in recent years may explain Australia, Canada and the U.K.'s reluctance to join the boytcott, and Germany's silence on the matter.
Complicating matters was President Biden's recent three-hour talk with Xi Jinping, after which they agreed to increase communications. There are a number of major issues on the table when it comes to China-U.S. relations—not just human rights and Taiwan, but also trade, China's recent advances in hypersonic missile development, and global shipping routes.
The Biden administration is fully aware that China sees the Olympics as an extremely important event, something that will—as in 2008—put them at the center of the world stage and allow them to showcase their development. (This year, China is expected to proudly unveil its new "digital yuan" to the world during the Games.) 
Any boycott of China's moment in the sun is taken as a profound insult by Beijing, and not one easily forgiven. Monday's announcement of the boycott is therefore no token gesture. How many other nations join by February will be telling, as will the way U.S. networks present China when broadcasting the opening and closing ceremonies. Most telling of all, perhaps, will be how China responds after those closing ceremonies are over.