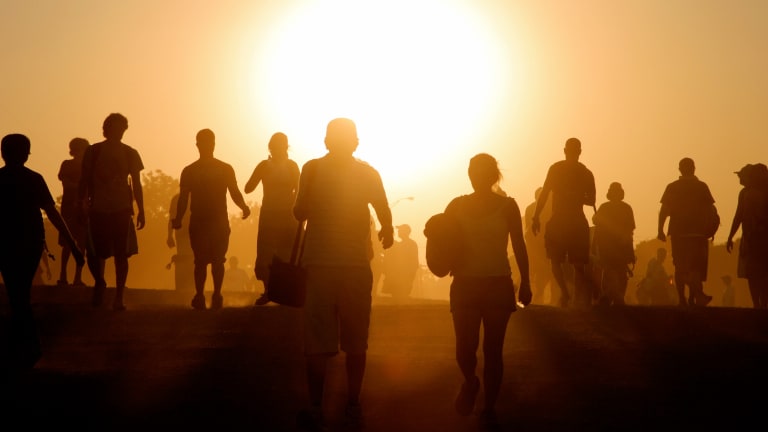 SXSW Goes Hybrid: The 2022 Festival Returns With (Mostly) Live Events
Welcome to the "new normal" of events featuring live and virtual elements.
In what is being seen by some as a note of confidence that the worst of the COVID-19 pandemic may be behind us, the organizers of the 2022 SXSW festival have announced that the 2022 gathering will feature in-person events for the first time in two years. Due to COVID concerns, the 2020 festival was cancelled, and the 2021 festival was held virtually.
The iconic ten-day festival, held every March in Austin, Texas, consists of three independent festivals and accompanying conferences focused on film, live music and interactive media, and in the past has attracted as many as 250,000 attendees.
Despite a spike in COVOD hospitalizations and the emergence of the Omicron variant, organizers this week added another 320 international acts to the music festival, and announced the film festival would be opening with the premiere of Neil Kwan and Daniel Scheinert's science fiction adventure comedy, Everything Everywhere All at Once.
Although the bands and many of the film screenings will be in-person, the festival, scheduled to run from March 11-20, will still maintain a heavy virtual element. Some of the film screenings will be online, and in-person conferences will be supplemented with virtual material. 
In a radio interview last June, SXSW chief programming officer Hugh Forrest admitted that, while there was nothing like being there in person, festival organizers discovered a few unexpected advantages to presenting the festival virtually. SXSW's International audience jumped from an average of 25% in previous years to 33% in 2021. He also noted virtuality tended to increase direct communication between artists and audiences, as well as among attendees.
"Hybrid is the big buzz word for the future," Forrest said. "I think we have a lot of confidence having pulled off the virtual event, the hybrid event is something we can conquer as well."
As of November, the festival's website stated all in-person attendees will be required to show proof of full vaccination or a recent negative COVID-19 test before being allowed into events.
SXSW was launched in 1987 primarily as a music festival, but has grown exponentially in recent years, with the film festival in particular now considered one of the most important and influential independent film festivals in the world.
For more on the changing landscape of live events, see: 
Live for Live Music's events tracker of cancellations, schedule changes, and all-around gauge of the return of live music. 
The New York Times on how new variants can cause "whiplash in the concert business." 
Forbes on how hybrid events "capture the best of both worlds."