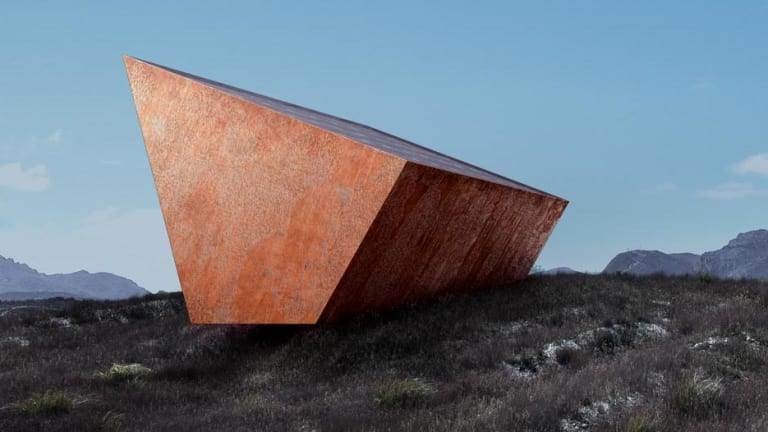 The Blue Planet Gets its Own "Black Box"
A communications firm in Australia has an urgent message for humanity in the form of a futuristic planetary flight recorder.
Writing at Roundtable partner site Failed State Update, Lenny Flatley examines plans to place a massive planetary Doomsday recorder in the remote reaches of the Australian island state of Tasmania. The device, named "Earth's Black Box," is designed to record Earth's fatal descent into becoming an inhospitable planet, should such an event overwhelm our attempts to record it. 
Writes Flatley,
The ad wizards at Clemenger BBDO, which bills itself as Australasia's largest, most successful marketing communications company, has released some renders of the proposed device, and the vibe is best described as "brutalism in the outback." The 10 x 4 x 3-meter steel structure with 7.4 centimeter walls will be set on a granite plane [and] use solar panels to power computers that actively scan the internet for climate change data and other information like social media posts and newspaper headlines. 
Essentially, the device is collecting tweets for whoever survives the Kali Yuga. This scheme doesn't have the dignity, say, of a pair of golden phonograph records hurtling through space, but maybe it'll be a nice reminder not to let things get so bad that we need a PR stunt like this in the first place.
For more on the Black Box and previous attempts to secure a future record of humanity's achievements, see:
—The official Earth's Black Box website for more information and to sign up for regular updates.
—The Byte on how Oreo built its own doomsday vault to protect its cookies in the event of a cataclysmic asteroid collision.
—The Atlantic on a photography project to ensure the species' legacy by launching "an archive of 100 black-and-white images, built to last for billions of years, aboard a communications satellite." 
—Carl Sagan on the "golden" records placed upon the Voyager spacecraft—"a gift across the cosmic ocean from one island of civilization to another."