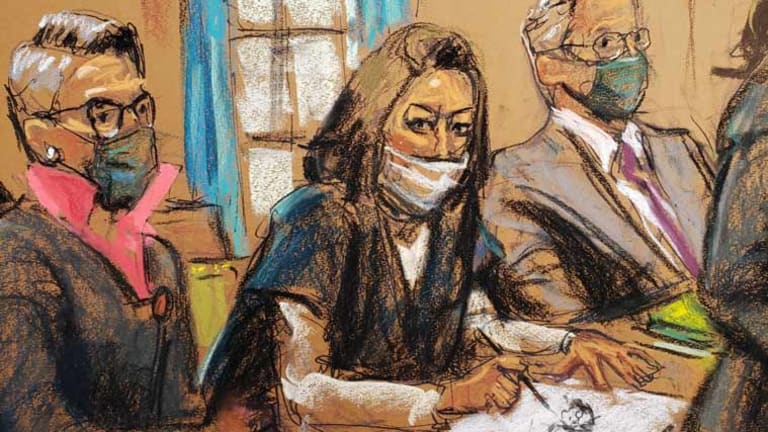 The Ghislaine Maxwell Trial: Week Two
After hearing initial testimony, the defense is expected to attack the character of the witnesses and the reliability of memory.
"Memory, manipulation and money," this is the three-word alliteration that Ghislaine Maxwell's defense team tried to hammer into the jury during the first week of her trial in Manhattan. Maxwell faces six counts related to sex trafficking, recruiting, and transporting minors for Jeffrey Epstein to abuse. She has pleaded not guilty on all counts.
The first five days of the trial saw a cross-section of people from Epstein and Maxwell's orbit, mostly employees of the late financier and convicted sex offender. They included Lawrence Visoski, Epstein's longtime personal pilot, who named Prince Andrew, Bill Clinton, and Donald Trump as frequent fliers on Epstein's plane. The relationship between Epstein and his pilot was so close that he gave Visoski a number of pricey gifts, including forty acres of land on his ranch in New Mexico to build a house. He also paid for Visoski's two daughters' tuition in a private high school.
Juan Alessi, house manager at Epstein's Palm Beach estate, described the strict rules that were enforced after Maxwell took up residence there in the early 1990s. "Mr. Epstein doesn't like to be looked at in his eyes," Maxwell told him. "Never look at his eyes, look in another part of the room and answer him." He also testified that his duties included cleaning sex toys after Epstein received "massages" from underage girls. These items were stored in Maxwell's private bathroom.
Probably the most dramatic testimony last week came from "Jane" who said that a chance encounter with Maxwell at a summer camp when she was 14 years old led to years of grooming and sexual abuse at Mr. Epstein's properties in Florida, New Mexico, and New York. She testified that sometimes Maxwell took part in the abuse, and that on occasion the abuse involved groups of people.
Also called to the stand was clinical psychologist Dr. Lisa Rocchio, who explained how Epstein and Maxwell's treatment of their victims — including shopping trips— was consistent with the "grooming" behavior of pedophiles.
All in all, the prosecution has been effective in showing how integral Maxwell was to Epstein's sex trafficking operation. Going forward, you can expect the defense to try to poke holes in that theory, as well as in the concept of "grooming" in general. Another large part of the defense's argument will be the unreliable nature of memory itself, with memory expert Elizabeth Loftus set to take the stand in coming days.
For more on the Maxwell trial and its backstory, see:
Newsweek on the viral drawing of Maxwell staring at the courtroom sketch artist and "drawing her back."
New York magazine profiles the accusers who will be at the trial.
Forbes writes about "How the Scripted Television Series on Ghislaine Maxwell Will Pressure Prince Andrew and Others in Jeffrey Epstein's Black Book." 
Town and Country on the best books about Jeffrey Epstein and Maxwell. 
Politico goes beyond Maxwell and reviews the other "women who enabled" Jeffrey Epstein.