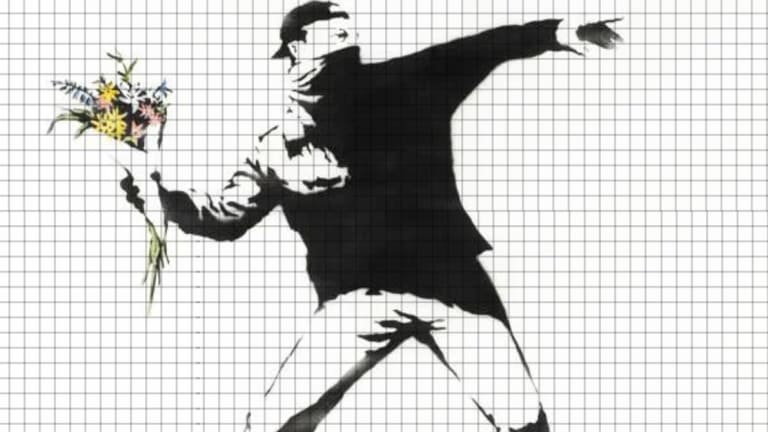 What's 1/10,000th of a Banksy Worth?
A new company aiming to create a market for fractionalized NFTs is dividing up one of the most famous images of the 21st-century.
On Wednesday, the world learned the fate of one of Banksy's most famous works. "Love is in the Air," featuring the image of a protestor launching a Molotov bouquet of flowers, was sold at auction for $8 million to a startup called Particle. It was a very big bet by a very young company: Particle spent more than half of its $15 million seed funding to hear the hammer fall in its favor at Sotheby's. 
Particle's plan? To "fractionalize" the iconic Banksy into 10,000 unique NFTs.  
As the New York Times reported, the company intends to digitize and divide the work into a 100-by-100 grid of tiny Banksy NFTs priced at roughly $1,500 apiece. If Particle sells them all, they will turn a $7 million gross profit. The original artwork is being donated to the Particle Foundation, a purpose-built nonprofit that will hold, preserve and tour the piece and future acquisitions.
Each of the 10,000 buyers will become owners of 1/10,000th of the physical painting. As a certificate of this ownership, they will receive "a collector's card that shows the whole artwork as well as the particle's location on the painting," according to the Times. Presumably, the physical collector's card is meant to be framed and hung on a wall, or perhaps stored in a safe. If the brief history of the young NFT industry is any guide, the secondary market for these NFTs will be brisk.
This particular NFT use-case has made a splash in the mainstream and art press, but something about the gimmicky sales model feels too obvious for a Banksy.
A stunt more worthy of the artist was conceived and executed in March, when the art/technology collective Burnt dropped $100,000 on Banksy's withering satire of the art world, titled "Morons", and promptly put a flame to it. The group proceeded to mint a video of the incineration as a 1-of-1 NFT and auction it on OpenSea for 228 ETH ($400,000 at the time and nearly $1 million at current prices). According to Coindesk, the proceeds were donated to charity. We suspect Banksy was pleased.