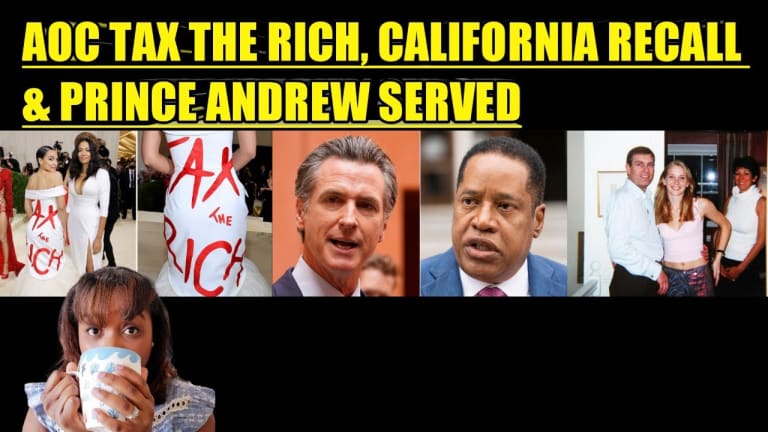 AOC TAX THE RICH, CALIFORNIA RECALL & PRINCE ANDREW SERVED
AOC tax the rich dress sparks controversy, California recall update and Prince Andrew is served.
AOC attends the Met Gala, an event for wealthy elites and celebrities, wearing a designer dress that says Tax the Rich. The dress and AOC's appearance at an event has stirred up the progressive community. Progressives are debating whether her gesture is genuine. Meanwhile, something is happening outside the Met Gala, that has made some question, if AOC should've been inside the Gala or outside in the streets with the people. Did AOC's message get through? Has AOC's celebrity status gone to her head? Should politicians be treated like celebrities? 
The recall for Gavin Newsome's Governor seat in California is underway. The race is now between Gavin Newsome and Larry Elder. Elder, the Republican candidate is surrounded by controversy from recent statements about reparations. Newsome is a Democrat establishment candidate who came under fire for not following his own Covid restrictions. There are also several third party candidates running as well. Who will voters choose? 
Prince Andrew has finally been served papers for his involvement in traffificaling under aged girls. But will he face consequences? What is his connection to Jeffrey Epstein? 
Sabby dives into these stories in this news segment.