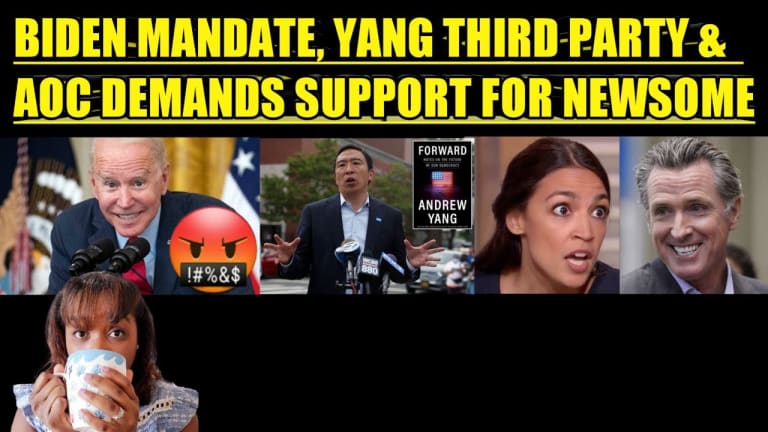 BIDEN MANDATE, YANG THIRD PARTY & AOC DEMANDS SUPPORT FOR NEWSOME
Joe Biden implements vaccine mandate, Andrew Yang starts new third party and AOC simps for Gavin Newsome.
Joe Biden has implemented vaccine mandates for some companies in the United States. This has stirred up turmoil and a divide among the American people. Will all companies comply with Biden's new mandate and how do employees feel about this? Will the new mandate create an increase in unemployment? Will there be exemptions allowed for those who cannot take the vaccine? 
After withdrawing his candidacy for the NYC mayor race, former presidential candidate Andrew Yang has decided to officially leave the Democratic party. Yang has also announced that he is starting his own third party after years of disappointment with the Democratic party. What are the details of Yang's new party? Will other former Democrat candidates support this new endeavor? Is it time to say goodbye to the two party system in this country?
Amid the recent recall of Gavin Newsome, an establishment Democrat, AOC is advocating for Californians to vote for Newsome. Why is AOC advocating for support of Gavin, who does not have progressive policies? Are progressives in the house bending to the Democrat establishment? What does this mean for the leftist movement?
Sabby dives into these stories in this news segment.