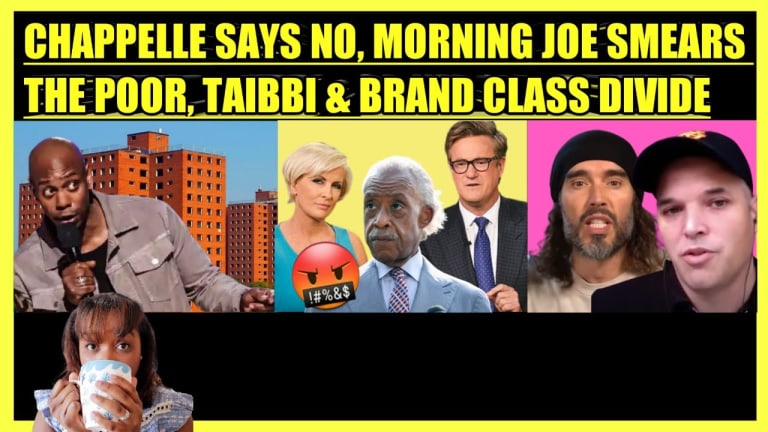 DAVE CHAPPELLE HOUSING ISSUE, MORNING JOE SMEARS THE POORS, MATT TAIBBI & RUSSELL BRAND CLASS DIVIDE
Dave Chappelle is accused of preventing affordable housing, Morning Joe smears poor people and Matt Taibbi & Russell Brand discuss the class divide in media.
Dave Chappelle in the spotlight again for controversial statements. This time the comedian has come under scrutiny for threatening to remove his $65 million investment from the Yellow Springs, Ohio community, due to a planned housing development proposal. The video of Chappelle speech went viral and have some accusing him of being against the project because it includes affordable housing. But is this true? What's the full story?
Morning Joe discusses a shoplifter at Trader Joes and the increase in crime in NYC. Al Sharpton feels inconvenienced because items such as toothpaste are now locked in a case. But why has crime increased in NYC and why would someone have to steal food? Why is the poverty issue not being addressed? 
Matt Taibbi joins Russell Brand for in depth conversation about class in media. Gone are the days of struggling journalists in mainstream media and a new crop of wealthy, ivy league journalists have consumed the field. What does this say about the class divide in media and how does it fit in with perceptions of urban and rural Americans?