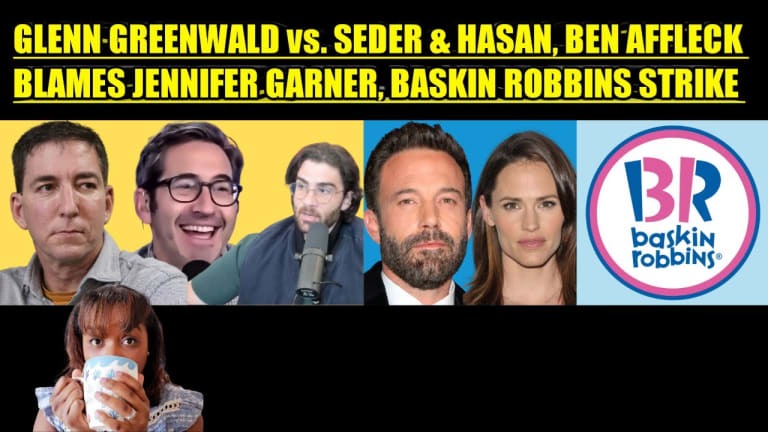 GLENN GREENWALD vs. SAM SEDER & HASAN, BEN AFFLECK BLAMES JENNIFER GARNER, BASKIN ROBBINS STRIKE
Glenn Greenwald responds to Sam Seder and Hasan Piker, Ben Affleck blames Jennifer Garner for his addiction and cake makers for Baskin Robbins go on strike.
After Hasan Piker is banned from Twitch, he appears on Majority Report to complain to Sam Seder. Sam Seder's response to Hasan, sends Glenn Greenwald into a fiery tweetstorm about their wealth and their journalism. Hasan Piker is worth millions and Sam Seder is close to it as well. Does Glenn have a point about their complaints about making money on the left? Sabby discusses this with Killjoy Meg and dives into YouTube's algorithm issue.
Ben Affleck is speaking out about his addiction and why he feels he was abusing alcohol. But was his marriage to Jennifer Garner to blame? Is okay for someone who suffers from addiction to blame their addiction on another person or their situation?
Rich's Dessert employees are on strike after being asked to make 13 cakes in one minute. Workers describe a brutal employee system that makes workers feel guilty for taking time off, even sick time. How does capitalism exploit workers? 
Sabby dives into these stories in this news segment.